Do it for the 'gram — that's the message we're getting from the new Selfie WRLD location in Buffalo. For those trying to snag the perfect selfie, the "DIY photography studio" franchise has officially hit Boulevard Mall. It's pretty hard to miss if you're walking through the mall — balloons, lights and color pop out at you from the storefront.
The interactive experience opened in May, and Instagram feeds in Buffalo are already filling up with the unique backdrops from the "selfie museum."
This Is Buffalo's First and Only Selfie WRLD Location
Co-owners Jennifer Lynch and Kelly Burke think this is the perfect all-ages activity to lift your spirits during the last year — what some may call the "longest decade" of our lives. Lynch and Burke both thought the unique concept was needed in the Queen City.
"Kelly sent me a TikTok video of Selfie WRLD and we both said this would be a great thing to bring to the Buffalo area," Lynch says. 
This is Buffalo's first Selfie WRLD location — there's more than 20 locations in the United States nationwide.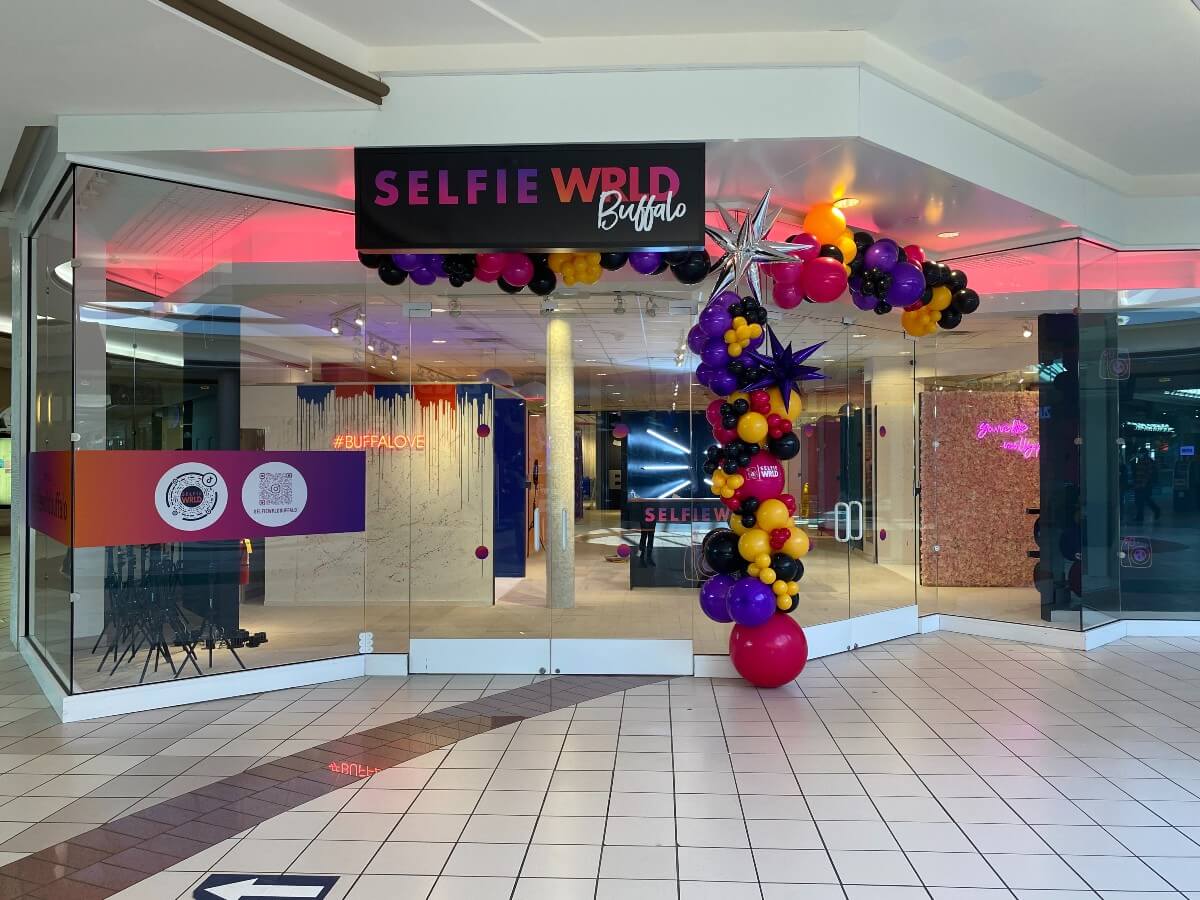 Selfie WRLD Booths Pay Homage to Buffalo
The interactive photo studio features 20 different booths with fun and eye-catching backdrops for visitors to snag that perfect "instagrammable" look.  Each booth has a different theme. There's a "#buffalove booth, a ball pit and there's even a room with swings. And they wouldn't think of opening without a Bills Mafia room.
"People can expect to have a lot of fun while taking photos or even creating memories," Lynch says. "Our favorite photo booth is the Bills Mafia, of course!"
For Buffalo visitors, Lynch says snapping pics in a bright and fun space has been a nice break from the doom and gloom of the past year: "We have heard nothing but amazing feedback so far. We have had all-ages in and everyone saying how fun it was and they can't wait to come back." 
Ready to Snap Your Selfie?
Lynch recommends booking an appointment online before you go. Once you arrive, they'll connect your phone to a Bluetooth remote. You'll have a full hour of studio time where you can take as many photos as you want in the various installations.
You don't even have to bring your own lighting equipment for your phone — they'll provide you with a ring light. All you need to do is make sure your phone or camera is fully charged. They have two dressing rooms so you can even do an outfit change in between selfies.
All the booths are socially distanced and Lynch says masks are mandatory in the main area: "You will need to have your face mask on the entire time unless inside our booths to take a photo."
Whether you want to try something new for date night, or need a new profile photo, SELFIE WORLD encourages you to "bring good vibes" and unleash your inner child while visiting. Add this to your list of fun things to do in Buffalo!
Photos courtesy Selfie WRLD