"I feel blessed." Elaine Tan Comeau, the creator of Easy Daysies magnetic schedules, says these words a lot, whether she's talking about parenting her three teenagers or surviving a stroke at a young age or inventing a product that inspired a bidding war on Dragons' Den.
The self-described "mompreneur" worked for many years as an elementary school teacher and found that children appreciate knowing their schedule for the day, just like grown-ups.
"Children are primarily visual learners, and so I knew that the only way I could move 22 six-year-olds from my classroom to the library to the gym without a meltdown or a tantrum was because we had a visual schedule showing them the shape of our day," Comeau explains. "Children become less anxious and more cooperative because they can see and predict what is happening next."
Making Visual Schedules for Home Use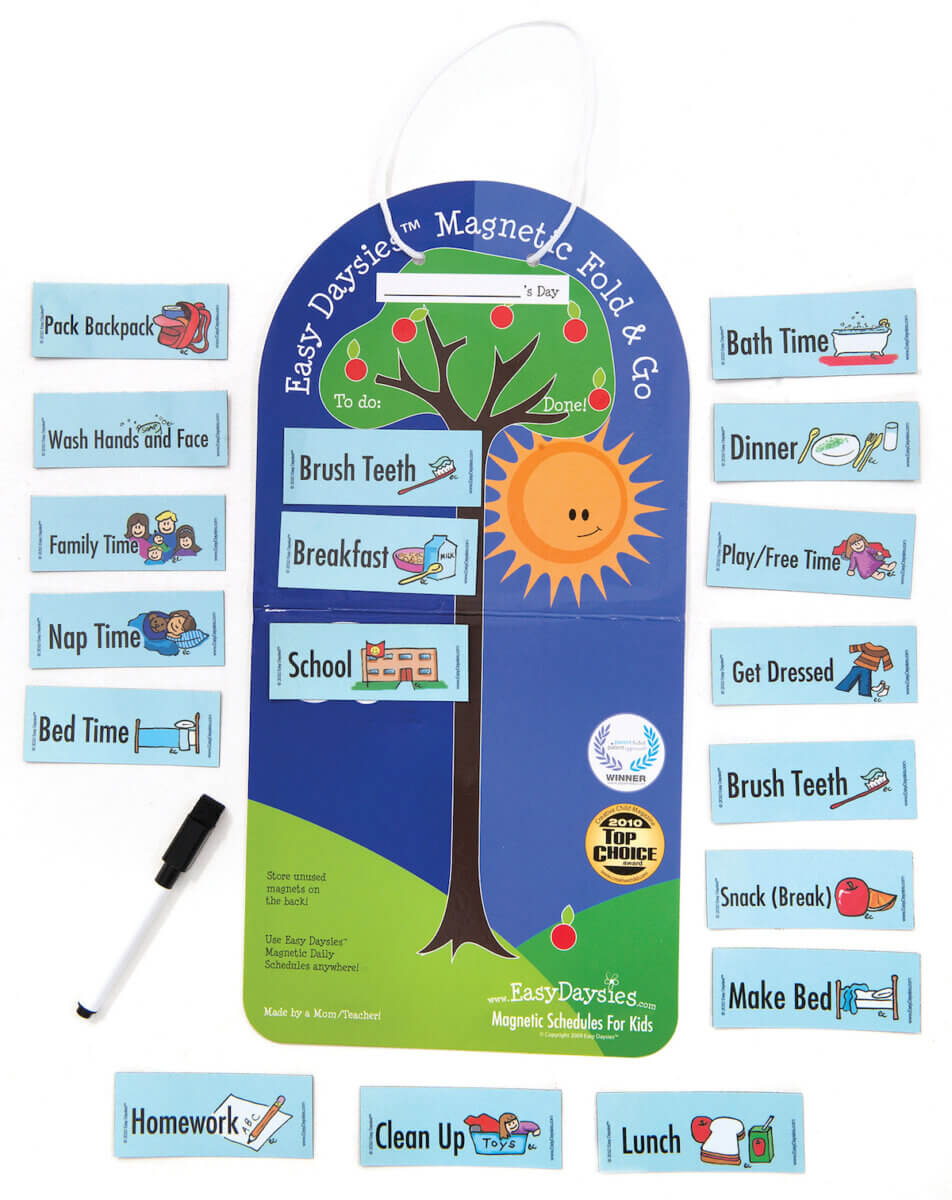 Parents started asking Comeau if she could produce similar schedules for the children to use at home. "I made these visual schedules for free for literally eight years," she says. The home schedules feature kid-friendly tasks like brushing teeth and getting dressed, and the child gets to move each completed task from a "to-do" column to a "done" column.
Wondering if there might be a market for these schedules, Comeau did some research and learned, to her surprise, that no one was selling them. She started tutoring and selling crafts to earn the $1,400 needed to produce the first batch of Easy Daysies magnetic day planners. "It's called Easy Daysies to help kids have easier days," she explains. Never one to go the easy route herself, Comeau launched her company a mere two days after giving birth to her third child.
More and more stores began carrying her product, so she juggled being a teacher during the day with working on Easy Daysies from her kitchen table in the evening, often until the wee hours. Several retailers at a trade show fell in love with the product and encouraged Comeau to pitch it on Dragons' Den.
"I thought, oh gosh, have you ever seen that show? It's not called The Nice People Show," she recalls. When she learned that Dragons' Den was holding Canada-wide auditions and would be in Vancouver just two days later,  she describes how it was a now-or-never moment. She went for it and auditioned.
Daring to Enter the Dragons' Den with Easy Daysies
Several weeks later she received a phone call inviting her to fly from Vancouver to Toronto to appear on the show, along with her husband and three children. Comeau balked at the idea of having her kids — aged two, four and seven at the time — on TV, but the producer insisted, telling her: "Elaine, it's a TV show, not a boardroom, so bring the kids."
On the morning of the taping, things weren't looking good. Everyone in the family had bronchitis except for the eldest child, and Comeau kept coughing while practicing her pitch. The taping took place at 6:30 a.m. Eastern Time, which she says definitely still felt like 3:30 a.m. Pacific Time for the family. And, just before the jetlagged children stepped in front of the camera, the youngest one threw up.
Despite all of these challenges, she nailed the pitch. All five Dragons made offers. Comeau chose to partner with Jim Treliving and Kevin O'Leary.
Committing Herself to the Entrepreneurial Endeavor
As the Easy Daysies orders kept pouring in, Comeau soon made the decision to quit teaching and devote herself full-time to the company. Her husband helps with some of the logistics of design and local manufacturing, and her children also lend a hand, performing quality control and acting as product models.
Comeau chokes up as she describes the messages she receives from customers saying what a difference the magnetic day planners have made in their lives: "It's those emails that I get from families, like a mom with three kids with autism sharing that she doesn't have to talk, talk, talk all day long anymore, or a divorced dad sharing that there's consistency in both homes now because of Easy Daysies, or a mom sharing that her nine-year-old nonverbal daughter who's developmentally delayed uses Easy Daysies as her words, and her quality of life is better now. Those keep me motivated."
Developing New Products for Easy Daysies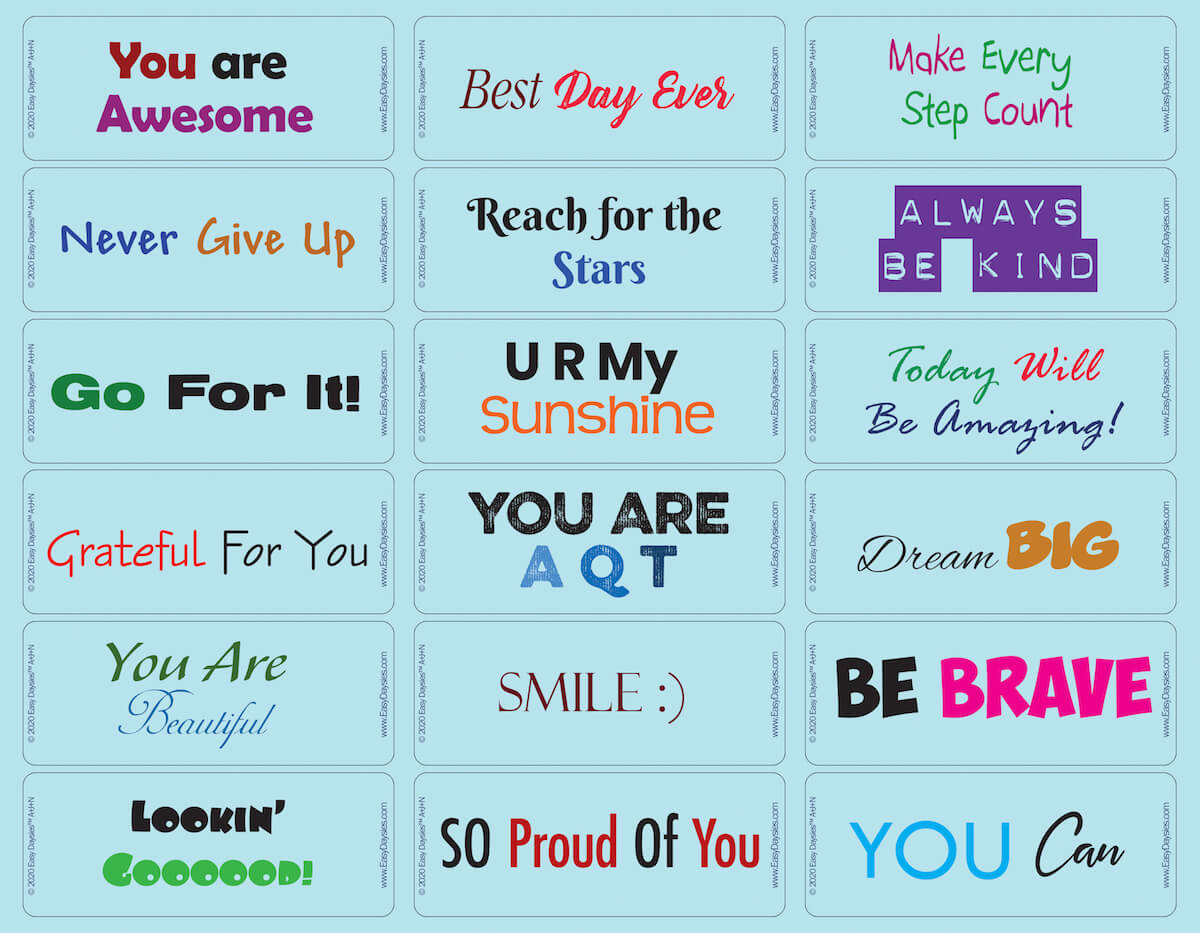 Messages from customers also led Comeau to develop My Day, a visual schedule for adults with early memory loss, early dementia or early Alzheimer's. She explains that the product is also useful for "adult children with special needs such as autism, and developmentally delayed children who become adults but still need a visual indicator to remember their routine and have a tool to help make their day easier." She adds, "There needs to be dignity for adults who don't want to use something that looks like a child's product or toy."
Another new product is Spreading Smiles, which Comeau launched during the pandemic with her children after they saw their peers struggling with mental health issues. The magnets feature encouraging messages such as "You Are Awesome" and "Today Will Be Amazing!" One of her children's schools even purchased the magnets in bulk to give away during an anti-bullying week.
In addition to running Easy Daysies, Comeau hosts the podcast Elaine's Kitchen Table, she wrote the book Sell Your Passion, and she regularly appears on morning TV shows to talk about parenting and education topics. Plus, she is a spokesperson for Heart & Stroke, after experiencing — and trying to ignore — a stroke in 2018.
Learning Life Lessons From a Medical Emergency
Comeau remembers waking up and immediately falling out of bed, then not being able to use her left hand to brush her teeth or make breakfast. But, somehow, she kept going: cooking, working, taking her kids to sports. Her day was so busy that she waited 14 hours before seeking medical help. She describes how she viewed the stroke as "completely inconvenient" at first. "Even though my body had physically changed," she says, "my mindset had not changed yet."
It took some time before Comeau accepted that she needed to prioritize her own health and wellness — and learn how to say no occasionally.
"One of the first lessons I learned from the stroke is listening to the priorities of your heart," she says, "to not waste time on people-pleasing and mom guilt and guilt in general. We often think that everything is urgent and important, and in fact very little is urgent and important."
During her seven months of rehabilitation, she worked with various therapists. One especially humbling moment occurred when the occupational therapist told Comeau that she needed a tool to help her remember her daily tasks, such as taking medication. The occupational therapist asked Comeau, "Have you heard of Easy Daysies?"
Prioritizing Health and Wellness
Comeau now advises her fellow mompreneurs to put their own health and wellness first. "Women have to remember that self-care is not selfish," she says. "That means do have office hours and try your best to respect those office hours. Book that pedicure like a meeting."
She also recommends that everyone find their own "triple-L crowd." The L's stand for launch, lift and learn. "These type of people are very important, people who encourage you and keep you going," she says.
Comeau tries her best to follow her own advice, surrounding herself with inspirational people and following her heart, "not doing things out of obligation and guilt." After all, she says: "You don't want to live a life by default. You want to live a life by design."
You might also like: 6 female founders share their best start-up advice
Lead image credit: Photo courtesy of Elaine Tan Comeau/Easy Daysies.
All products listed in articles are independently selected and curated for you by our editorial team. If you buy something we link to, toast may earn a commission, which supports our mission of sharing positive stories about inspiring people with everyone.