Even though meal delivery company Inspired Go is barely more than two years old, it's already reached the maturity level of a much older business. Founders Derek Rucki and Jon Karwacki attribute this to the fact they had to pivot their business model early on, when the COVID-19 pandemic forced the second iteration of the meal delivery company shortly after it started operating.
At the beginning of 2019, Inspired Go was focused on providing healthy meals to workers in downtown Calgary, Alberta. Everyone in Calgary's core knows that finding quick, convenient and affordable healthy eating options can be tricky. Rucki and Karwacki had been building a solid clientele for their meal delivery of packaged salads, bowls, snacks and breakfast kits, but when offices emptied out, everything had to change. And fast.
Meal Delivery Company Was 'Reborn' as a Business When COVID Hit
"We had to be reborn as a business when COVID happened," Rucki says. "That rebirth was our moment of realizing that we're all in this together. There are people in our community who have been more heavily impacted because of COVID, and I think that moment in time sparked us to something bigger."
As the pair quickly reorganized to begin to deliver to homes, they heard the stories of their clients — specifically, the nurses they had formerly delivered to at the Alberta Health Services building downtown, which spurred them into action.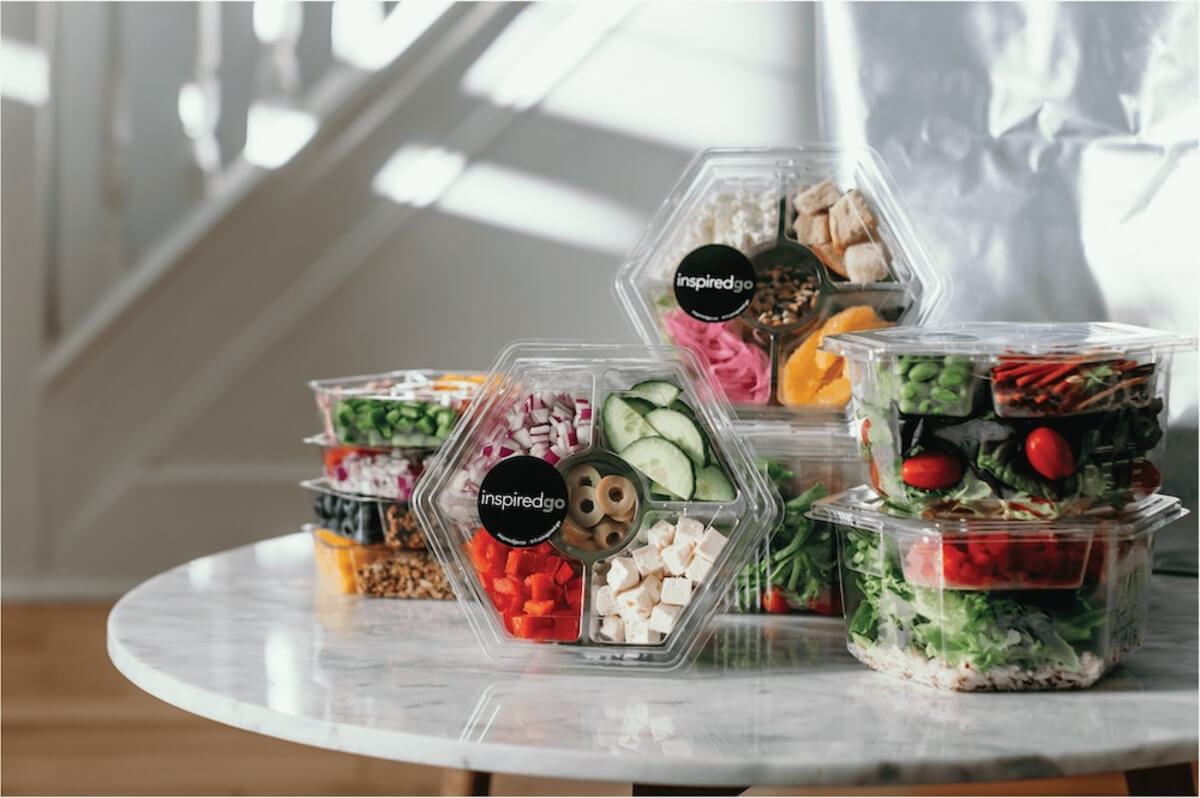 7,000 Free Meals Delivered to Health-Care Workers
"We realized that there was more that we could be doing to ethically align our business goals with the people in our community that we wanted to support," Rucki says.
They began their #feedingthefrontlines campaign, spreading the word that they would donate one meal for every order made on their website, starting with exhausted health-care workers. By the time the campaign ended last June, 7,000 meals had been provided.
3,000 Free Meals Delivered to Educators
As both Rucki and Karwacki's mothers are elementary school teachers who were dealing with a lot of uncertainty and stress, next up came the teachers. Inspired Go's #supportourschools campaign sent 3,000 meals to hard-working educators with little time to concentrate on themselves.
"It's kind of happening organically for us," Rucki says. A small Mother's Day campaign donating 100 meals to new moms came about because they had seen the new mothers in their circle focus so much on their children they were forgetting to take care of themselves. Rucki says this approach to giving back is one he sees the company continuing to take.
"We will always be on the lookout for these types of opportunities," he says. "Our 10,000 meals donated were a win-win. We were able to support incredible people in our community, but it also resulted in a spike in business for Inspired Go due to the media attention and the fact that many of the nurses and teachers we donated meals to became loyal customers. I believe doing these social programs in win-win ways allows for them to be done more consistently."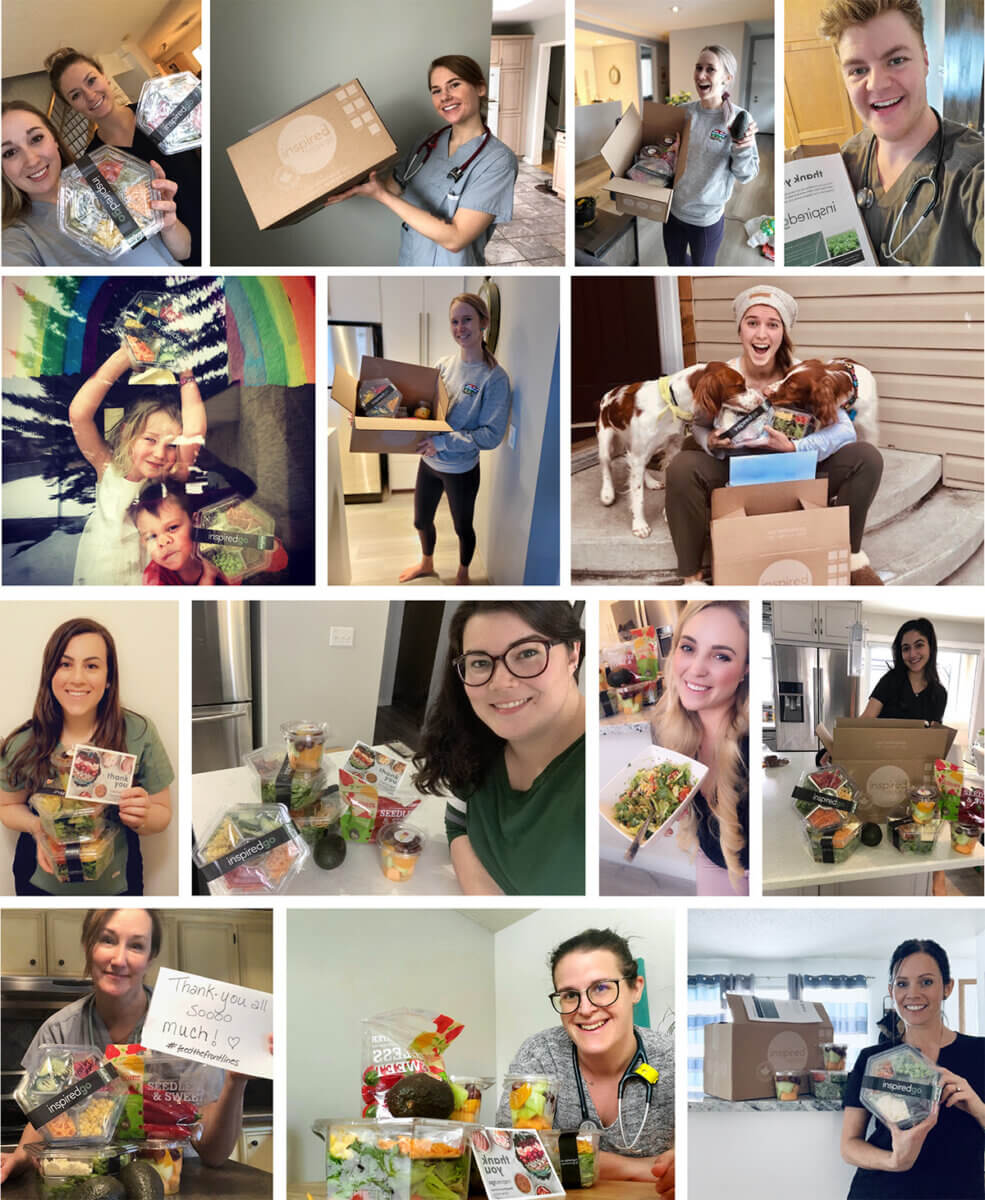 Meal Delivery Company Supports Local Producers
Inspired Go's business model was developed when they were discussing the prospects provided through Karwacki's father's state-of-the-art greenhouse in Coaldale, AB. They saw the chance to get the lettuce being grown at Star Produce (which acts as their parent company), directly to people's plates, and also the opportunity to support other local producers.
"We source the vast majority of our produce from Western Canada, including growing our own lettuce right here in Alberta instead of outsourcing to field lettuce operations in the United States," Rucki says.
Expanding Across Canada
In the past 12 months, the little salad company that could has grown from six full-time to 18 full-time employees, and they have more than 50 hourly employees for food production, packing and delivery. They now operate in Calgary, Edmonton, Saskatoon and the Greater Vancouver area and are working to expand even more.
Rucki says that as they continue, Inspired Go's mandate will remain the same. He hopes their meals can be a small part of an overall shift towards eating healthier and treating yourself well, both of which are key to a healthy lifestyle.
"It's no secret that consistently eating healthy gives us more energy; it changes how we feel and makes us better leaders, friends, parents and people. In short, it allows us to be an inspiration to the people around us. Living an inspired life starts with healthy eating."
Photos courtesy of Inspired Go