For many people, basketball is more than just a sport — it's a way of life. It's where you meet new friends, learn how to work as a team and gain other valuable life skills. In other words, basketball is life. That's how it's always been for Jermaine "Rock" Anderson. When he was five years old, his cousins introduced him to the sport.
"It started because I wanted to be around them," Anderson says. "But I also had a genuine passion for the game."
This passion secured Anderson an athletic scholarship to Fordham University where he played for the men's basketball team while earning a Bachelor of Arts in Marketing. In 2004, he joined Canada's senior men's basketball team and played in over 75 international games with the team.
"My yearly schedule was hectic, to say the least, but I loved every moment of it," Anderson says.
Fifty for Free Builds Financial Literacy & Basketball Skills
One year during the off-season, Anderson and a friend wanted to share their love of basketball with the community. They organized a basketball camp for kids in the Harbourfront neighbourhood of Toronto. While he considered it a success, he didn't like that they had to charge for admission to cover their costs.
"Even though the kids enjoyed it, I wanted to figure out a way to provide programming free of charge but also combine life skills," Anderson says.
While playing in Germany in 2015, Anderson got the idea for what is now Fifty For Free Youth Community Initiative (FFF), a not-for-profit organization in Toronto that focuses on building character, cultivating financial literacy and developing basketball skills with youth from under-served communities.
Anderson Wants Students to Avoid Finance Mistakes
"Finance has always been something I have been passionate about," he says. "I realized some of the mistakes I and my teammates made, and I wanted to limit those mistakes by providing students with knowledge of some of the traps out there."
Since he wanted to be involved in every aspect of the program, Anderson waited until he retired from playing professional basketball in 2018 to get the program off the ground.
"I wanted to be around [and] I dedicated so much time to basketball that I didn't want anything to take away from that," he says. "But I also wanted to be on the ground and running the program. I didn't want to be connected to something I wasn't fully invested in."
Fifty Students Participate in Free Program 
The six-week program, which is designed for high school students in the summer months, is now going into its third year and provides 50 youth from underserved and marginalized neighbourhoods the opportunity to participate in a financial literacy and basketball program free of charge.   
The program is set up so that the first hour is classroom work. Participants learn about budgeting, investing and debt management. They've also expanded the program this year to include classroom sessions about coding, tech and cryptocurrencies. After the kids have completed the classroom component for the day, they get to work on their basketball skills.
"The educational component is always first," he says. "Our participants know they can't participate in basketball unless they attend class."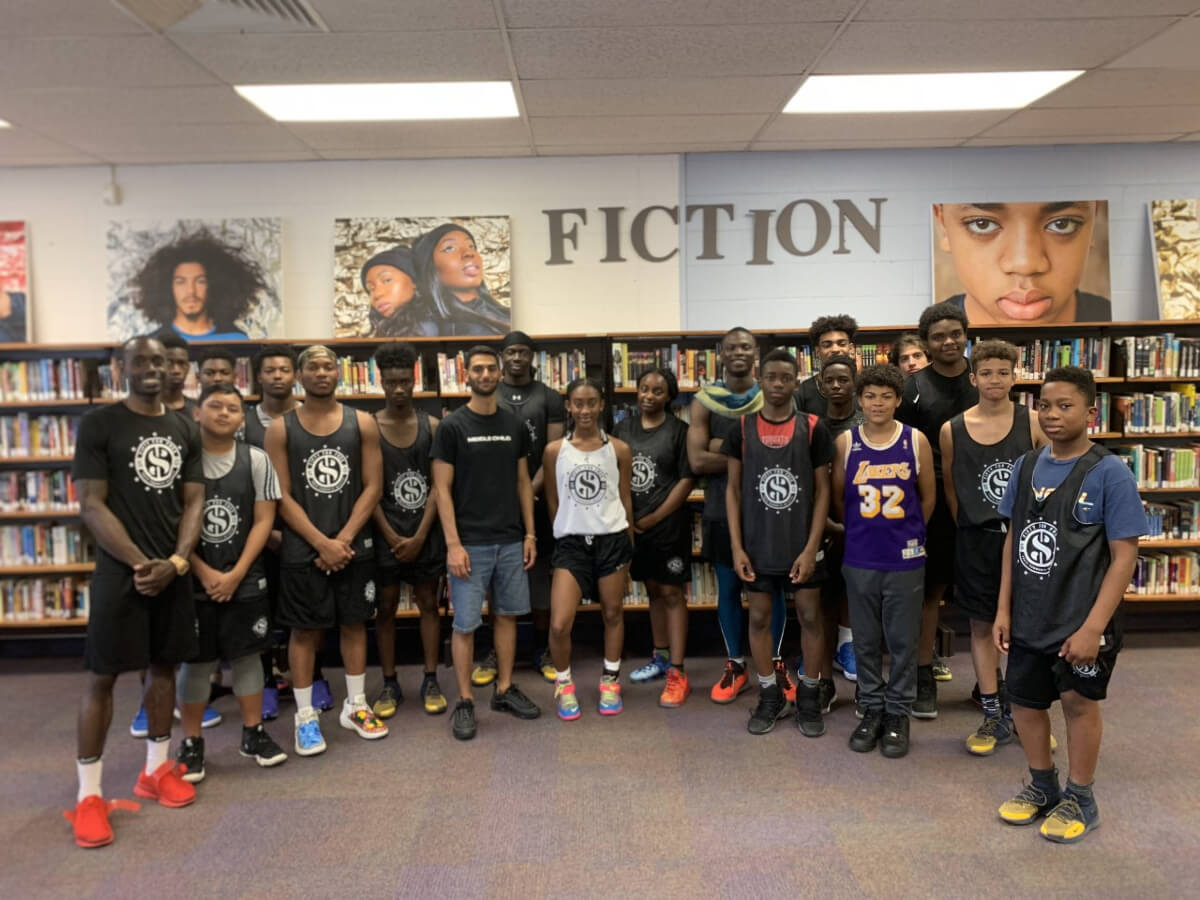 'Financial Literacy Is Something We All Need'
To Anderson, it's important to start teaching these skills at a young age, which is why the participants range from Grades 9 to 12.
"Financial literacy is something we all need," Anderson says. "It was a way to show kids from the community I grew up in that it doesn't matter where you start. There's this façade of what wealth looks like, especially in inner-city communities. I wanted to teach them what real wealth was not just living comfortably but also having savings and show them that saving long-term is cool."
Financial Literacy Aspect of Program a Huge Success
Although Anderson and those who teach the basketball aspect of the program have gotten used to saying "fake right then break left" and "don't be afraid to shoot the outside J" the classroom aspect of the program has also been a huge success.
"The kids we work with are absolutely amazing," he says. "The funny thing is they enjoy the financial literacy aspect of the program as much as the sports component, which is great."  
Last year's classes were held virtually due to COVID-19, but Anderson hopes to have this year's program, which starts July 13th, back in their regular classroom and on the court. To learn more about Fifty For Free and support their program, visit their website. 
Other inspirational people in Toronto and game-changers in their industry include Alexa Jovanovic, who used her research on Braille and inclusive fashion design to found a Braille-beaded clothing company, and Reza Khonsari and James Heaney, two Ryerson University students who created a vaccine booking app to help people find appointments in their area without having to scour multiple different websites.