Lead photo credit Matt Smith
9 Mile Legacy Brewing, led by Shawn Moen and Garrett Pederson, has positioned itself as one of Saskatchewan's premier breweries. By marrying international inspiration with home-grown prairie traditions and ingredients, they have become a force to be reckoned with.
The first wave of craft brewing came in the 80s and 90s, led by Bushwakkers Brew Pub in Regina and Paddock Wood Brewing in Saskatoon. These breweries were instrumental in bringing craft beer to Saskatchewan people and paving the way for other aspiring brewers to open their doors. But their hard work and ingenuity was just the tipping point for craft beer in Saskatchewan.
9 Mile Legacy Brewing won Gold at the 2020 Canadian Brewing Awards
Enter 9 Mile. Currently, they hold numerous awards and accolades. The most recent is winning Gold at the 2020 Canadian Brewing Awards for their Angus Stout, which means they have received back-to-back gold medals from the national competition! In 2019, they received Gold for their flagship 9 Mile Ale.
But their story doesn't start there, of course. The story begins in 2007, in true Saskatchewan fashion, in a garage in the dead of winter.
With an inherited winemaking kit, brewing supplies and a tattered copy of The Complete Joy of Home Brewing, Garrett and Shawn set out to make their first brew.
"It was a really long day. It was wintertime, and we didn't have a way to chill the wort down to pitch the yeast, so we ended up sticking it in a snowbank for about four hours, and I think we went to play some Xbox and grabbed some pizza while we waited. By the time we were done, it was like two or three in the morning." Garett laughingly recalls. "But once we tasted it — that was the hook from day one."
9 Mile Legacy Brewing spent years refining their craft
They didn't set out to professionally brew, but by 2008, they had joined the Saskatoon Headhunters Home-brewing Club and continued to hone their skills. For the next few years, Garrett and Shawn would continue to dive deep into the world of home-brewing, reading all of the top beer writers at the time, such as Greg Noonan and Ray Daniels, and making sure they were tasting the best beer they could get their hands on.
Sometimes, it meant unique ordering beers from afar that weren't available here in Saskatchewan. "Big inspiration of ours at the time was the upcoming American breweries like Dogfish Head, Sierra Nevada, Arrogant Bastard and Brooklyn Brewing," Garrett says.
"One pivotal moment was when we were on a family trip to New York. One of the breweries we liked was Brooklyn Brewing, and we had both read Beer School, which is written by the founders of the brewery, and they had a similar story to us. So we bought a bottle of Sorachi Ace from the brewery and drank it under the Brooklyn Bridge. It was a special moment, and where we decided that we could really make a go of this."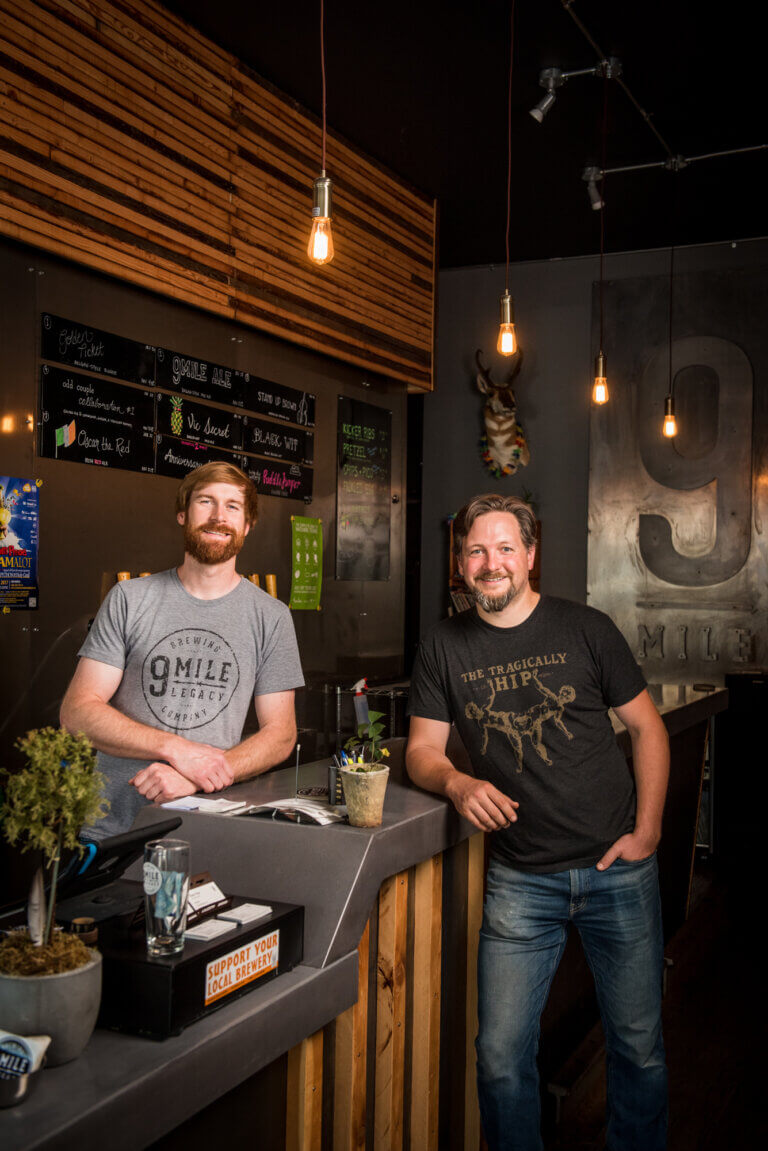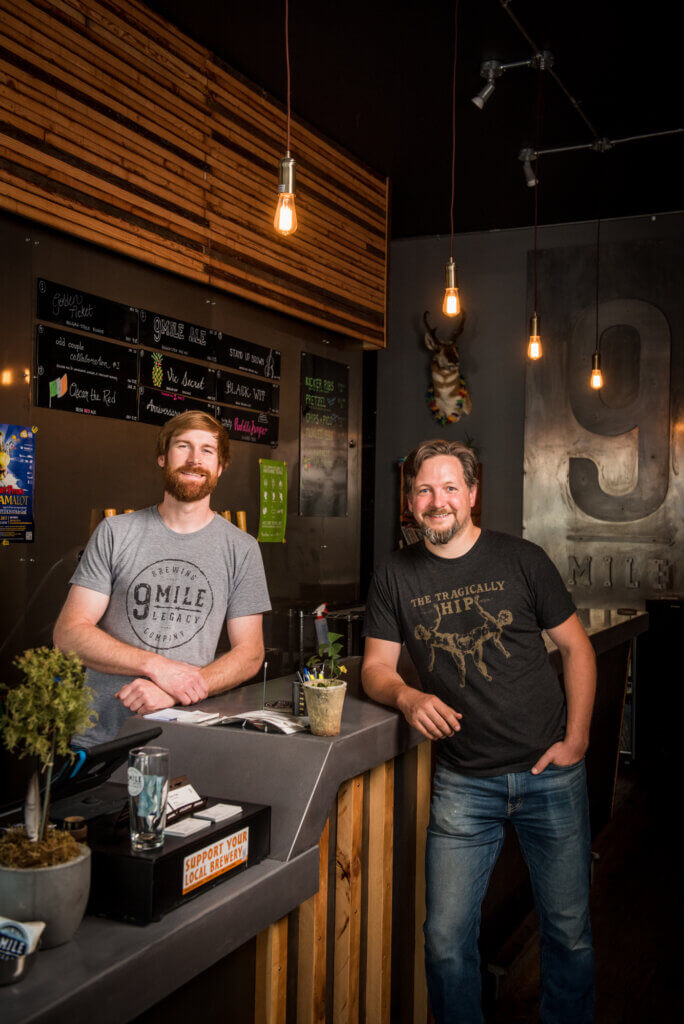 From that moment, their journey started from home-brewing aficionados to professional brewers. Between 2011 and 2012, Garrett and Shawn both left their jobs and travelled separately worldwide, working with international breweries. By 2014, it was time to open 9 Mile Legacy Brewing. Initially, they built their nano-brewery in the Ideas Inc. co-working space downtown Saskatoon before moving to their 20th street flagship location.
"I remember when 9 Mile first opened in the Ideas Inc. space. And that was the first time I had ever seen anything like that in Saskatoon, or anybody really had. Shaun and Garret engaged the market in a significant, purposeful and intentional way," recalls Peter Reimer, founder of Spot On Cider.
9 Mile Legacy has become a craft beverage institution in Saskatoon
From the growler-fill-only days to their upcoming expansion of a new brewing and canning facility just steps from their flagship location in the Riversdale district, 9 Mile has become a craft beverage institution here in Saskatoon. Their commitment to quality, ingenuity and community is difficult to rival.
Not only do they brew delicious, high-quality beer, but they are also strong advocates of supporting the local economy. Often engaging with the City of Saskatoon and other local businesses on community initiatives, they have raised the bar on what it means to be a local business.
"A really great aspect of what we do is giving beer to people and seeing their reaction and them being super appreciative. Whether it's how the beer tastes, or how it presents, or how we are interacting with the community, having people be supportive of 9 Mile and what we do — that's what gives you the extra skip in your step", says Garrett.
Go and visit them and drink their delicious brews at their flagship taproom, located at 229 20th St W, Saskatoon. Cheers! Instagram
Recommended for you:
Black Fox Farm & Distillery Spirits are Terroir-Driven
Craft Cider in Saskatchewan Emerging on the World Stage
Meet Cabernet Franc Wine, It's Clamoring to Get into Your Glass