Introducing The Throwback Issue
Yesterday meets Today. In the next few months, Toast will move into retrograde and explore and reflect on those who came before us — innovators, visionaries and trailblazers — and how their influence laid a foundation for this generation.
Lead photo credit Black Fox Farm & Distillery
John Cote will make you a believer in the uniqueness of Saskatchewan's agriculture scene. When he talks about his work at Black Fox Farm and Distillery, his passion is contagious. As one of the first distilleries in the province, Black Fox is trailblazing what it means to create high-quality spirits from exclusively Saskatchewan ingredients. Their lineup is made entirely from hyper-local ingredients and consists of a variety of fruit liqueurs and gins infused with things like cucumber, mustard seed, and even Boreal mint harvested from Northern Saskatchewan's Boreal forests. In 2017, Black Fox's Oaked Gin was awarded "World's Best" at the World Gin Awards.
A passion for Saskatchewan ingredients led the way at Black Fox Farm & Distillery
But their story didn't start there. John Cote and Barb Stefanyshyn-Cote are third-generation farmers who have farmed, studied, consulted, and participated in agriculture on five different continents over their careers. They came back to Saskatchewan with a mission to bring the gospel of agriculture to the people.
"We just wanted to get in front of the farmer. We felt there was a story to tell about agriculture that was intrinsic to what we wanted to do with our careers," says John.
He talks about how Kevin and Melanie Boldt, founders of Pine View Farms, were instrumental in celebrating and executing the model of bringing quality Saskatchewan products straight to the consumer.
"Kevin and Melanie were inspirational because they were already telling that story: we're really good farmers, we're taking care of the environment, and we're custodians of what the future of food is going to look like."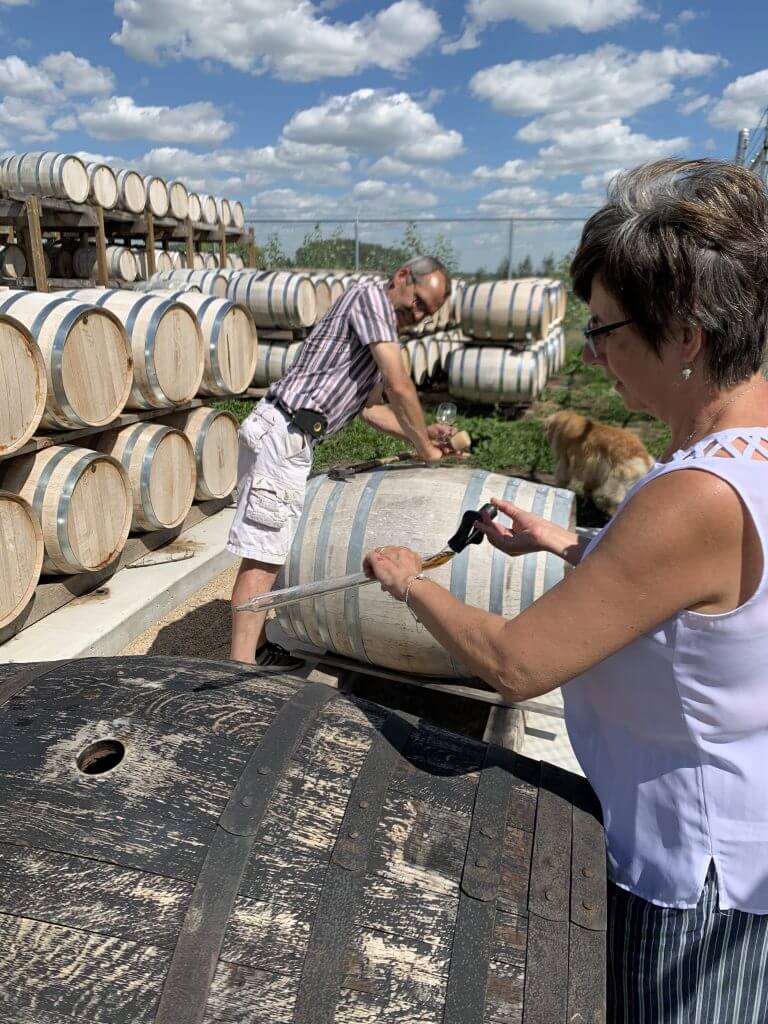 With this manifesto, John and Barb pushed forward to celebrate Saskatchewan's unique ingredients through distilling. In 2011, they were awarded one of the first distilling licenses in the province. Their project began in the back of Souleio, a restaurant owned by Kevin and Melanie Bolt and where John and Barb were shareholders. They started experimenting with a small still and small batches of liqueurs from local fruits. Beth Rogers and Thane Robstad, of the now award-winning Hearth restaurant, were the chefs at that time, and John mentions how instrumental they were in both honing his palate and developing products that worked.
"It's training your mind to figure out what your customer is going to like, and I learnt that from Beth and Thane, you have to be able to balance flavours. It just started the creative juices going."
From their original fruit liqueurs, which they are still creating, to a full lineup of gins, and even a soon-to-be released whiskey, John and Barb have truly, and solely, created Saskatchewan's premier terroir-driven spirits.
Terroir is French for "a taste of place," and Black Fox's spirits taste uniquely Saskatchewan
"Terroir" is a French word meaning "a taste of place." It's the notion that not only does the raw material come from the place in which it's made but the environmental factors, the soil, and the weather come together to form a product that tastes uniquely from where it's made.
John lights up as we begin to discuss terroir in his soon-to-be released whiskey, and you can tell creating this "taste of place" is at the heart of his passion.
"The whole idea of terroir in whiskey is just brilliant! There's so much to be said for it … we don't have to be like everyone else to be successful."
Black Fox Farm & Distillery is a Saskatchewan trailblazer
And just like that, John expresses the sentiment of a true Saskatchewan trailblazer — that Saskatchewan can bring exceptional products into this world by celebrating the uniqueness of this beautiful province in all its facets.
Visit Black Fox Farm and Distillery at 245 Valley Road, Saskatoon. Check their website and social media for hours and information on tours, tasing, and even U-pick flowers. Black Fox products are also readily available at stores and establishments all around the province. Check your local Metro Liquor Stores, CO-OP Liquor Stores, or Sobey's liquor stores for Black Fox spirits and liqueurs.
Recommended for you: 
Relax With These Easy Cannabis-Infused Gin Cocktails