As Canadians collectively celebrate 40 years since the Marathon of Hope, this year's Terry Fox Run will be a bit different due to COVID-19 and social distancing protocols. Participants can still run or walk on race day, but a single run site in each city will not be taking place. But you can still walk, run, dance or hike to support the 2020 Terry Fox Virtual Run.
The 40th Anniversary of the Terry Fox Run will be virtual
"For me, it's an honour to do a small part to help continue Terry's legacy of hope and his important mission of fundraising for cancer research. It's inspiring to see how much his story resonates even 40 years later," says Alison Lackie, who volunteers with the Terry Fox Run Organizing Committee in Saskatoon.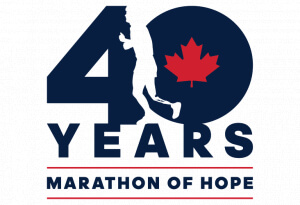 "This year's event will, of course, look different as we are unable to gather together in-person to run. However, we encourage everyone to register and fundraise online and find a way to do the run their way on September 20. Check out our Saskatoon Terry Fox Run Facebook page for a fun way to share your run that day!" says Alison.
The Terry Fox Run is the world's largest one day fundraiser for cancer research
Colin Kuntz is Provincial Director, Saskatchewan of the Terry Fox Foundation. Based out of Regina, he is also a runner and a cyclist. Colin notes that the legacy of the Marathon of Hope is the largest one-day fundraiser for cancer research in the world and has raised more than $800 million in Terry's name since its inception.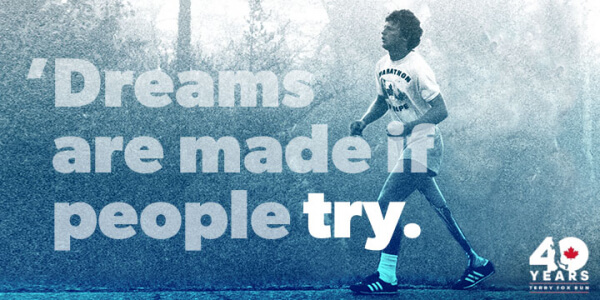 Purchase Terry Fox Run 40th anniversary merchandise to support the cause
"September 20 is fast approaching, and we need the support of Saskatchewan residents. This year's virtual format is helping us to hit new audiences, which is great. We encourage participants to try something new and post it on social media with the hashtag #tryliketerry. Another way to support this year's Terry Fox Run is to purchase 40th anniversary branded items. We have t-shirts, hoodies, ball caps, toques and face masks all for sale," says Colin.
All Terry Fox Runs are 100 per cent volunteer-driven and could not happen without these dedicated individuals. In Saskatchewan alone, the event relies on more than 1,500 volunteers to keep Terry's inspirational dream alive.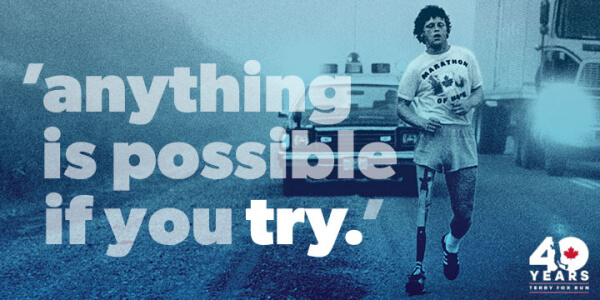 The Terry Fox Foundation mobile app is new in 2020
New this year is a Terry Fox Foundation mobile app. It's quick and easy to install, gives participants access to challenges and allows them to chat and connect with fellow "Foxers" (the app can be downloaded at terryfox.org/app).
There is still time to register for the Terry Fox Run and donate at terryfox.org.
Recommended for you:
Cindy Delainey's Healing Story