To Lily Ciric Hoffman, culinary therapy is a lifestyle. She founded Dishmeetup as a non-judgmental platform with no rules or specific diets.
She says, "I'm not proposing anything. [I'm not saying] 'Follow me, this is how I found my truth!' I was just looking for a community where I can share how I show up for myself and just see what others do for themselves, too."
Dishmeetup Offers an Intimate Cooking Community
Dishmeetup began in February 2020. Members share recipes and find mutual support. The online platform also has themed months. For example, the theme for October was "apples." Hoffmann says, "Either you bake them, cook 'em, eat them, juice them, whatever you do, it's kind of incentivized for people to use it."
Dishmeetup is a small and intimate community where members can choose to engage as much or a little as they want.
"I wanted a platform where we can either share challenges, or ask questions, or get inspired by each other, or just come in and say, 'You know what, I had a crappy day, but look what I've made – and I showed up for myself, and that's all that matters," she says.
Dishmeetup Use Culinary Therapy to Bring People Together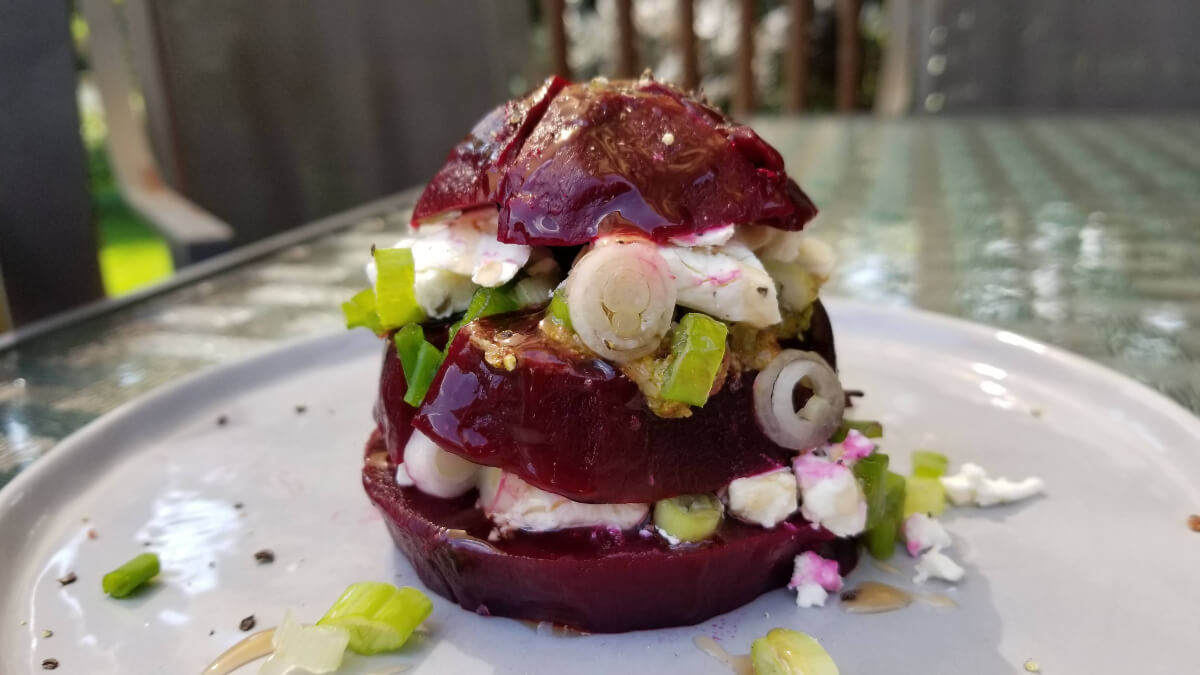 To Hoffmann, culinary therapy is "the overall physical and mental health benefits of cooking." And sorry, grabbing a pack of "ready-to-bake" cinnamon buns from the store and popping them in the oven doesn't count!
"I think of cooking as doing something with your hands, so either prepping or following a recipe," Hoffman says. "​For me, cooking is more than just being on autopilot. It actually helps me in daily struggles — not just daily — also, if I feel down, or if I feel like I'm not fitting in, or if it's a new challenge. At least what I know that calms me down and works for me in terms of self-care, is cooking."
Finding Satisfaction in Making Something From Scratch
And while she says she has nothing against ready-to-bake goods, Hoffmann finds satisfaction in making something for herself from scratch. So what does Hoffman do when she wants to indulge? The answer: Chocolate Tahini Brownies.
"I found these flourless tahini brownies that use chocolate," she says. "I didn't have enough chocolate. So then I mixed in some cocoa and maple syrup to kind of mock melted chocolate and they turned out great." Are you now in the mood for something chewy and fudgy? Try making the recipe.
The Benefits of Culinary Therapy
Culinary therapy has therapeutic benefits that include stress relief, cultivating mindfulness and creativity, improving your relationship with food, learning to tune into your body's needs to avoid overindulging and turning sluggish, as well as connecting with your family's heritage and culture.
However, Hoffmann stresses: "I'm not a healthcare professional. I'm not a therapist. I'm actually a working individual. My work has nothing to do with cooking and culinary, or therapy. And I'm very straightforward as saying this is a peer-to-peer community — or help. If people need help, they really need to look to a professional, whether it's a nutritionist — if they have eating disorders or any kind of mental health issues around food or cooking, they need to address that."
Becoming a Dishmeetup member is free. To learn more about Dishmeetup, visit dishmeetup.com.  
You might also like
More examples of inspiring people using the internet for good:
Lead image courtesy Lily Ciric Hoffmann.