Food journalist Miriam Kresh started cooking online last year as a way to socialize during the COVID-19 lockdowns. Now her "Israel Cookalong" class draws participants from Israel, Canada, the United States and South Africa who cook together over Zoom.
"It's been a great way to meet up with old friends and get to know new people who are curious about Middle Eastern and Mediterranean cuisines — not to mention that it's fun!" says Kresh, who grew up in the United States and has lived in Israel for more than four decades.
Home Cooks Bond Virtually Through Israel Cookalong
Even though the pandemic has restricted many aspects of our lives, Israel Cookalong participants are able to find meaning through cooking.
Judy Sagara is from Columbus, Ohio and has been participating in the Israel Cookalong for the past year.
"During the middle of the COVID-19 pandemic, it was a nice way to connect with people, and as a bonus, meet people I never would have met otherwise and form that bond with them," she says. "For me, it was one of the highlights of the quarantine period."
Cookalong Inspires Participants to Try New Things in the Kitchen
Sagara says her neighbors in their "COVID-19 pod" have greatly benefited from her Israel Cookalong lessons: "They are very happy to get a home-cooked meal and try new things. It's helped us with maintaining that relationship because we had a once-a-week reason to get together with them — that was a bonus." 
She adds the Israel Cookalong is something to look forward to every week, especially since she gets to try new things like raw tahini, which she'd never tried before joining the class.
The Cookalong has called for tahini in several dishes, including halva, a Middle Eastern sweet confection, all of which she's enjoyed experimenting with: "And trying things like the silan (Biblical date honey or date syrup) and sumac (a popular spice in Mediterranean and Middle Eastern cooking). It's fun to try and find ways to incorporate these ingredients into more recipes overall. Everything that I've added to my spice pantry is something that I like and want to continue to use."
Israel Cookalong Provides a Cultural Experience
Calgarian Leslie Levant has been participating in the Israel Cookalong for nearly a year. "It's always so nice to see everybody," says Levant, who enjoys being able to cook with other people in real time and ask the instructor lots of questions on how to best cook each dish.
She particularly enjoyed cooking a recent dish — chicken breasts stuffed with mushrooms and chestnuts.
Levant enjoys the sense of community among the participants and appreciates Kresh's supportive approach.
"The teacher is gentle and she empowers you," she says. For example, if you don't like a certain ingredient, Kresh will suggest other options, and she encourages participants to focus on the tastes and flavors that please them. "It's liberating," Levant says.
Not to mention, the lessons provide a touch of culture to a home cook's kitchen. And cooking at home with lots of fresh foods is an ideal way to eat healthy during COVID-19.
How to Participate in the Israel Cookalong
You can participate in the Israel Cookalong on Sundays at 9 a.m. Mountain Time by contacting Miriam Kresh at miriamkresh1@gmail.com. It's $15 USD to participate, per session, paid via Paypal, and you can attend as many or as few sessions as you would like. Kresh will send the Zoom link and the week's recipe ahead of time so you can shop for ingredients before class starts.
If you're one of the many people who've returned to the kitchen during the pandemic, try the herbed olives recipe Miriam Kresh has provided for toast readers.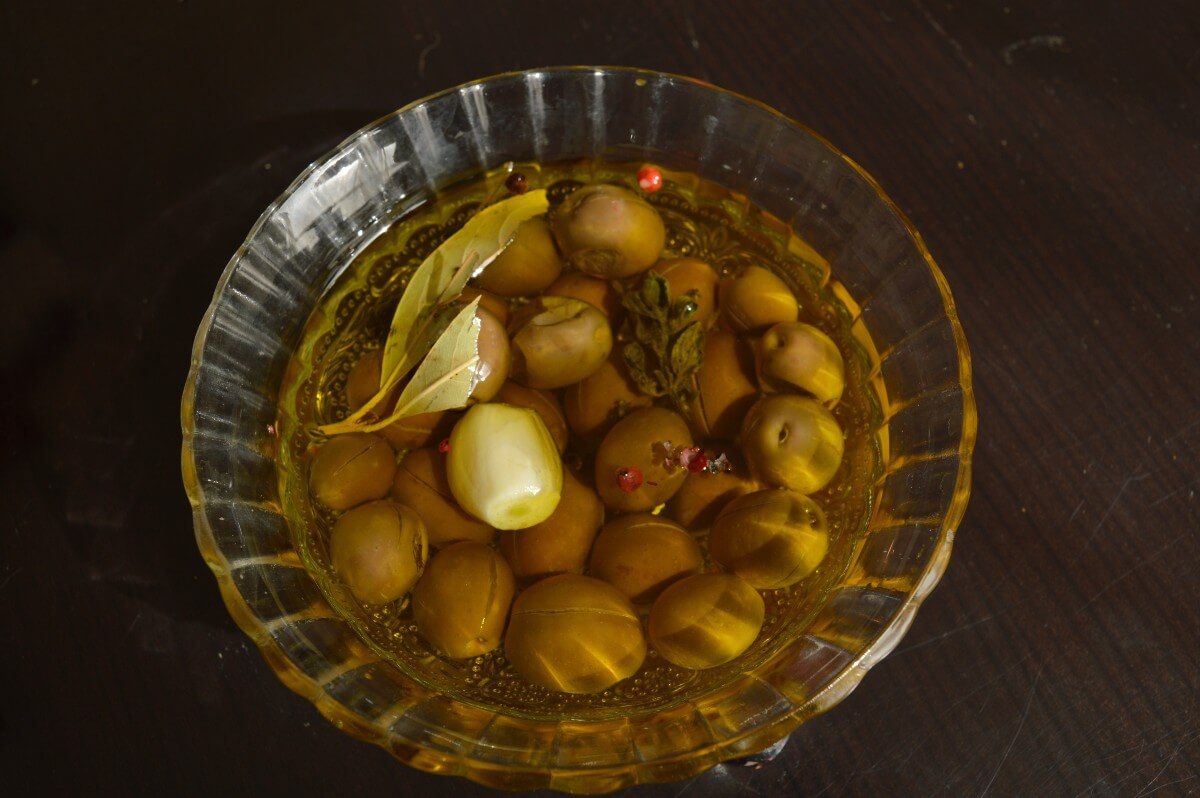 Recipe for Herbed Green Olives
Ingredients
2 cups canned, unpitted green olives, drained
4 tablespoons olive oil
3 cloves garlic, crushed
1/2 teaspoon sweet paprika
Pinch of cayenne pepper
2 bay leaves
2 tablespoons fresh lemon juice
Instructions
Do-ahead of time: Crack the olives with a mallet or a small, heavy saucepan. Put them in a bowl and cover with cold water. Soak overnight. Drain well.
Heat the oil over low heat in a skillet. Cook the garlic, spices and bay leaves for 3 minutes.
Add the olives; cook about 4 minutes. Remove from heat.
Add the lemon juice, and allow the olives to cool.
Place in very clean, very dry jars. Refrigerate.
Looking for more recipes? Try toast's most popular recipe, dill pickle soup, or check out our ranking of the 10 trendiest recipes from quarantine.