According to the World Health Organization, at least 2.2 billion people globally have a vision impairment or blindness. The organization notes that vision, the most dominant of our senses, plays a critical role in every facet and stage of our lives — without it, we struggle to learn to walk, to participate in school, and to work. They add that the burden of eye conditions and vision impairment is not borne equally. The burden tends to be greater in low-and-middle-income countries and underserved populations.
According to The Lancet Global Health, there are hundreds of millions of people around the world who have moderate or severe vision impairment or blindness that could have been prevented. People are living in darkness for no reason other than a lack of access to eye care. In about 80 percent of these cases, blindness is avoidable (preventable or curable). What it takes for people to regain their eyesight is straightforward: surgery, access to antibiotics or a glasses prescription, which allows people to go back to work and children to go back to school.
Give Sight Global, a non-profit organization that treats vision impairment and blindness internationally, states avoidable blindness is the number one preventable disability in the world. Their plan is a big one: eliminate avoidable blindness altogether by creating a cycle of sustainable vision care. Their first step in this journey is a proposed new model that could reach more people around the world and potentially disrupt the development industry.  
How Give Sight Global Began
In 2013, Justin Nabity and Reid Lancaster were running their company Physicians Thrive, a financial planning company for doctors in Omaha, Nebraska, when they decided to join a volunteer trip to provide free eye care on the Navajo Nation, an isolated area of Utah with above-average rates of poverty. They rolled up their sleeves and started doing vision screening with people as they lined up to see the eye doctor, nurse and ophthalmologist. It was at this moment that Nabity and Lancaster saw first-hand the devastating impacts of avoidable blindness. 
"I had no idea that there were that many people living life every day, not being able to see at all," Nabity says. "And then discovering that in 10 minutes they can have their eyes worked on and they can see, in many cases, 20/20 the next day. That's one of those things where you had to do something about it."
After their volunteer trip to the Navajo Nation, Nabity and Lancaster also made trips to Tanzania, Micronesia, Trinidad and Tobago to assist with providing eye care on the ground in these countries. The duo asked themselves, how could they use their business to make a difference in avoidable blindness? They were inspired to donate a portion of their business profits to fund vision care in underserved communities and Give Sight Global was born.
After years of providing eye exams, surgeries and training for local physicians and nurses, they wanted to do more than restore eyesight to individuals around the world — they wanted to fulfill their mission of ending avoidable blindness around the world.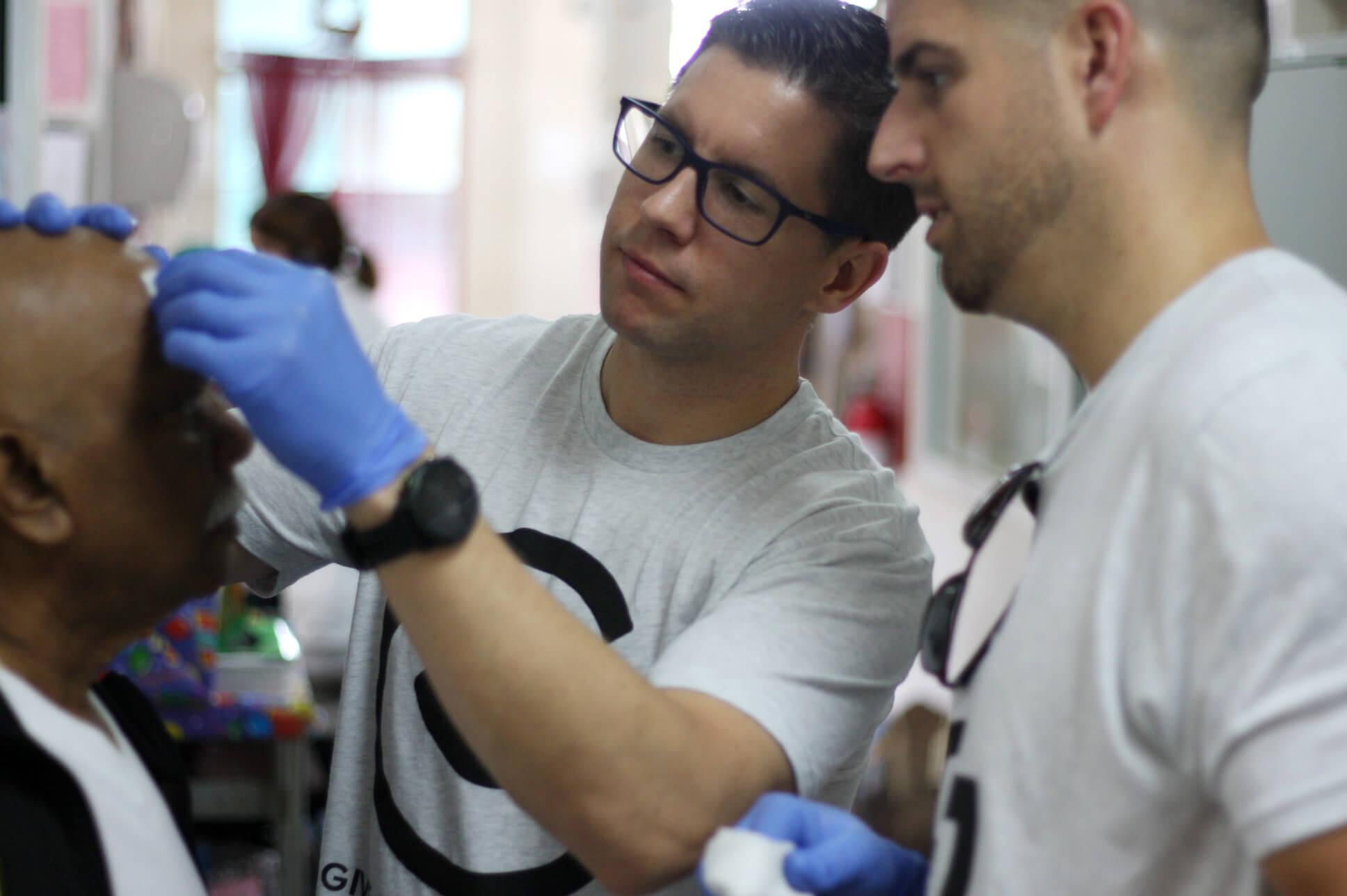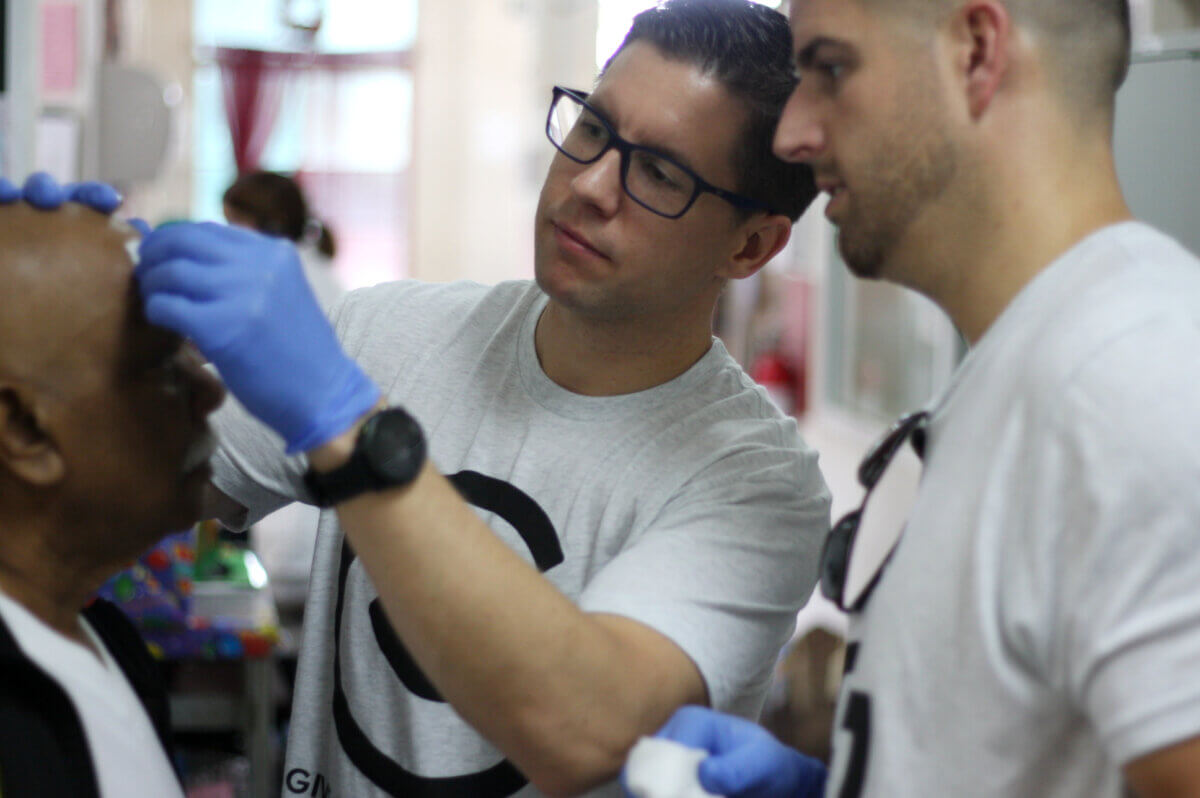 A New Model in the Development Industry
In March 2021, Nabity and Lancaster brought on Aly Bandali as president and CEO to take the reins of Give Sight Global. Bandali was born in Uganda just outside of Kampala, and when his family arrived in North America, he was raised by his grandmother, who had a form of avoidable blindness. With his personal connection to the issue, and his background in a variety of leadership positions, including as the president and CEO of Operation Eyesight Universal, they felt he would help them with their mission of not only treating, but ending, avoidable blindness. 
Bandali, Nabity and Lancaster put their heads together to brainstorm: how could they solve the issue of avoidable blindness one village and one community at a time? Bandali points to companies that provide a pair of shoes or other apparel to people in need as an example of an initiative that doesn't go far enough: "It's great that it puts shoes on people's feet, but it doesn't solve the issue in the community, and it doesn't become sustainable. So how do we do that?"
Ending Avoidable Blindness One Community at a Time 
Give Sight Global has selected India for its flagship project. Their website describes how 270 million people with vision impairment live in India — it's considered the country with the highest rates of blindness and vision loss.
They've partnered with a local hospital in West Bengal, India called the Siliguri Greater Lions Hospital Network. Over the next 10 years, they are hoping to provide $800,000 to the hospital to reconstruct and expand their surgical suites to triple the number of surgeries they offer each year and also build 20 for-profit vision centers that are linked to the hospital.
"They don't have access to that kind of capital unless they're willing to pay 20 percent interest," Bandali says.
The for-profit vision centers are key to the operation and provide a sustainable source of revenue for the hospital. Bandali estimates that when vision screenings are completed in a community, about 25 percent of the population needs glasses, which provides a market for the hospital. The vision centers would serve that market.
A Game Changer in the Development Industry
"We as donors come along, give them some money, they're able to provide some services, and they make some money to stay afloat but not enough to capitalize growth — so there are unreached parts of the population," Bandali says. "Once that cycle gets created, we'll never have to go back to the donor and say we need more money for this community — now the community has its own financial cycle and means to grow and expand itself."
Other aspects they've built into this project are employing women in the vision centers to address gender inequity. Each center would also include two community health workers who do outreach in the community. They would be trained to go door-to-door to look into the eyes of community members while screening for malnutrition and other health issues at the same time.
The profits from the vision centers — estimated to be $6,000 a year per center — would go into a community health fund that addresses primary health issues in the community. Bandali says the model is a gamechanger in the development industry.
"We're trying to change the system of development," Bandali says. "No matter which way you slice it, development is today's day and age is still aid — we can rationalize it in many different ways — but it's still aid," he says. "Even the growth of social enterprise — companies focused on profit but to do social good — they're still dictating the aid they're giving to do social good. We're not solving the actual issue on the ground."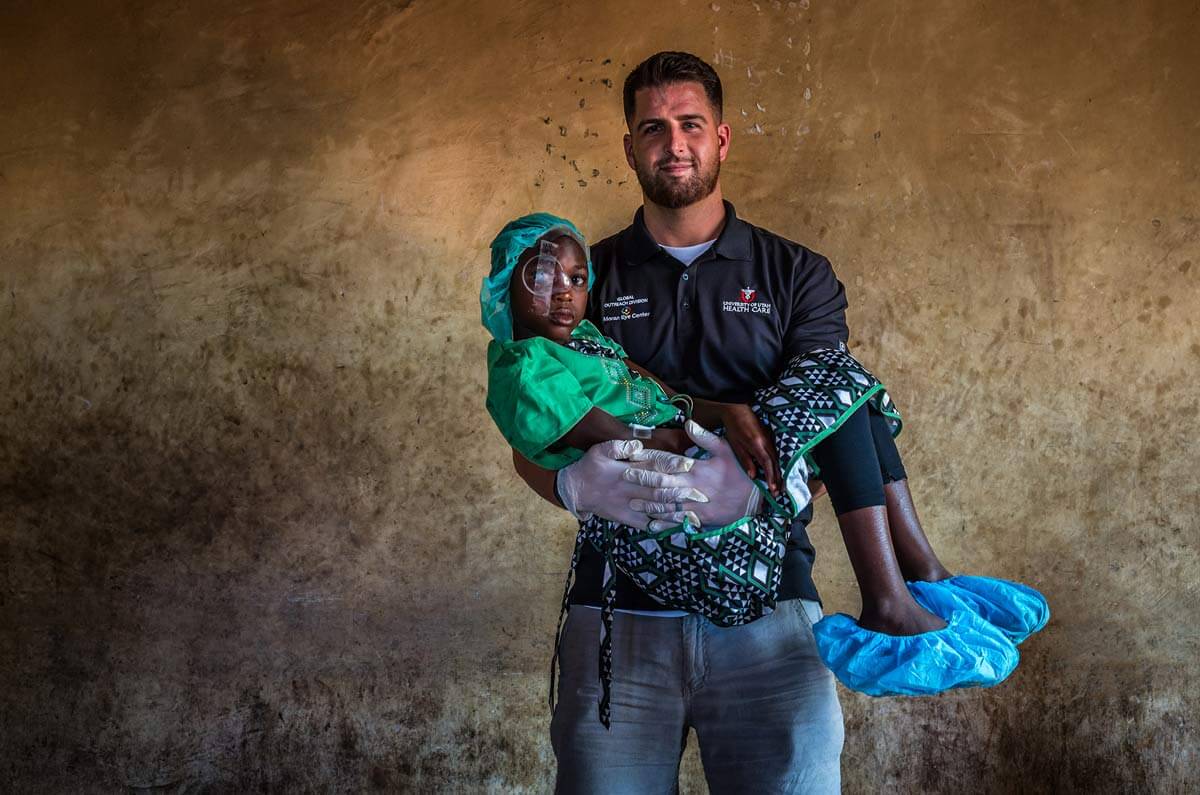 Expanding Their Reach to Address Avoidable Blindness
Ultimately, Give Sight Global wants to see this model adopted by non-profit and non-governmental organizations (NGOs) around the world.
"I would love to partner with other NGOs, or for other NGOs to copy this," Bandali says.
It's just the beginning — they want to address avoidable blindness locally too. Bandali says when most people think of underserved communities that require vision care, they tend to think of people in developing nations, and while those people have a huge need for eye care, people in the United States and Canada need support too — low-income families or homeless people, or people who live in remote areas, don't have access to basic eye care.
More Game Changers   
More inspirational people changing the world:
Guru Nanak Free Kitchen feeds hundreds of people for free every Sunday
How Bonton Farms is closing the gap in a food desert
Strength in the Circle is championing collective healing in Indigenous communities
Lead photo credit Give Sight Global