Lead Image: Trisha Gregorio, left, and Justine Abigail Yu, right, share poems and stories from writers of different backgrounds across Canada in their new Living Hyphen podcast that reflects on the concept of home during the pandemic. Screenshot courtesy Living Hyphen.
---
Justine Abigail Yu, the founder and editor of Living Hyphen magazine, says the pandemic caused everyone to experience what is a regular part of life for immigrants and their children — being separated from loved ones.
Yu says herself and podcast co-host Trisha Gregorio are both Filipina-Canadian and they've always had to find new and creative ways to show "love from afar."
"That's something that those of us who are from a diaspora, or who have been displaced in some way, have been doing all of our lives," she says.
In their new podcast, they explore what it means to live in-between cultures as a hyphenated Canadian — individuals who call Canada home but have roots elsewhere.
Each Living Hyphen Episode Shares Poems & Stories From Across Canada
Season one of the podcast shares poems and stories from writers of different backgrounds across Canada, all of whom were invited to explore the concept of home and whatever it means to them during the pandemic.  
Trisha Gregorio says each episode revolves around one particular theme — and they unpack the theme in many different ways and explore all the nuances and possible meanings it could have. The themes touch on the shared experiences felt by people during the pandemic, like food — how many of us turned to the kitchen for comfort during this time?
They discuss how food and culture are interwoven, how food can mean so many different things to different people, "comfort, home, joy, gathering, nourishment, memory" while also playing an important role in "passing down family histories, uncovering secrets, and understanding identity."   
'No One Way to Exist as a Hyphenated Canadian'
The main message they want listeners to take away from the podcast is that each theme will have vastly different meanings and experiences to hyphenated Canadians.
"There's no one way to exist as a hyphenated Canadian and however much we connect to that, to whatever theme we're discussing in one particular episode or one particular week, there's still nuance in how much that might resonate with you," Gregorio says. "It's like a fun house mirror in terms of understanding identity. There's just so many angles to look at it from." 
On Cutting Fruit as a Love Language
The food episode, for example, shares a poem that subverts cutting fruit as a love language — which they discuss has been generalized as an immigrant experience by the mainstream media.
Gregorio explains on the podcast: "It supposedly holds in this one act all the things unsaid and all the love unarticulated… but love from immigrant parents, for better or for worse, can be so complicated — there's just so many factors intrinsic to the narrative."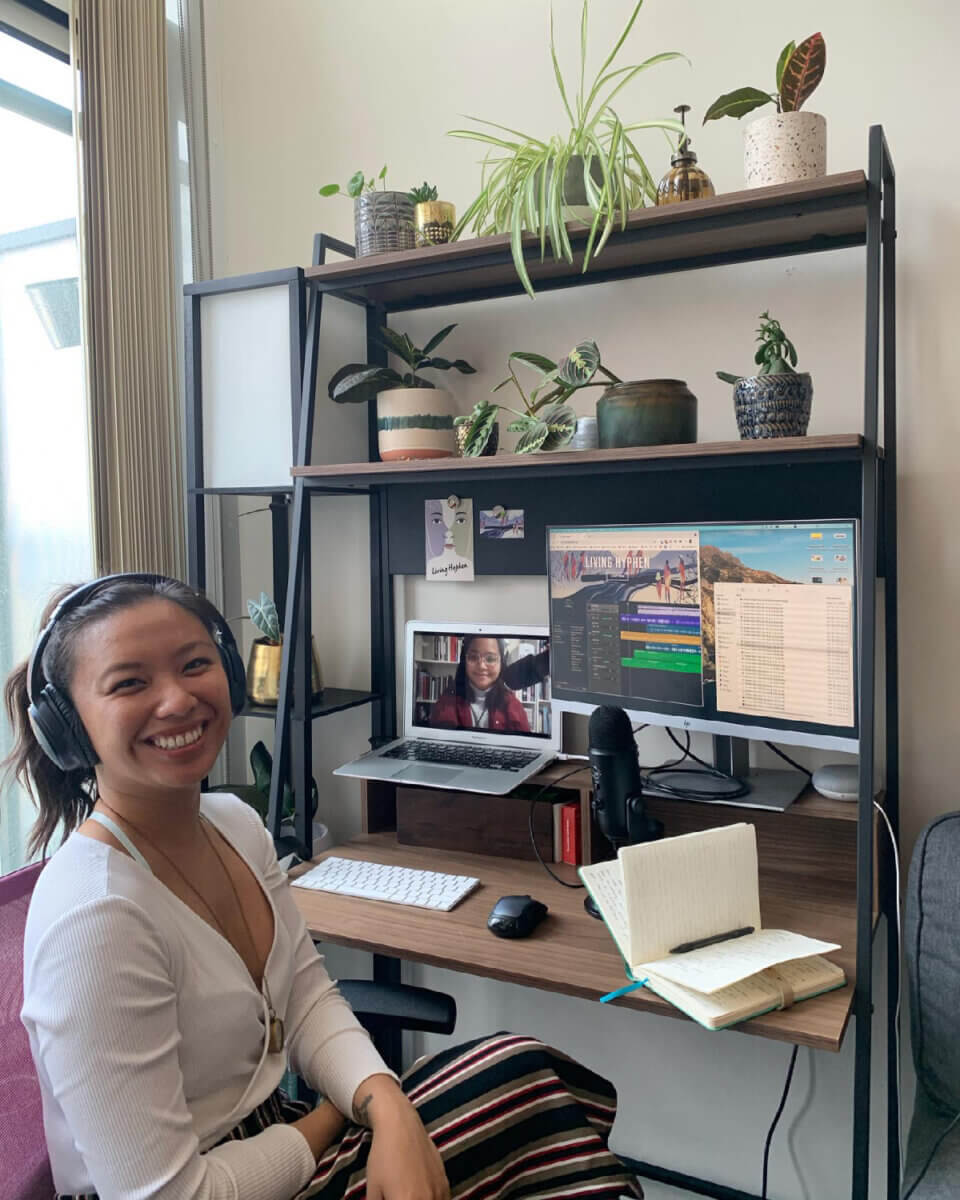 Amplifying Underrepresented Voices on Living Hyphen Podcast
By sharing these stories on their podcast, they hope to subvert and reshape the mainstream narrative we're told about the immigrant experience.
"With podcasting, with every industry, the leadership positions, the editorial positions and curatorial positions are always very homogenous," Yu says. "It's typically white Canadians who impose that narrative of what they think the immigrant experience, from whatever ethnic background it might be, is supposed to look like."  
Gregorio says the podcast is another way for Living Hyphen to amplify underrepresented voices: "For me, storytelling has always been about connecting a community and just amplifying the love that I feel is just inherent to these communities. Because I feel like when you grow up not hearing your stories told, it means so much more when you do hear it."
The Podcast is an Extension of the Living Hyphen Brand
The podcast is another format of Living Hyphen's magazine, which started in 2018.
"We launched the print magazine, which had about 50 artists and writers who are featured in it from all across what we now know as Canada," Yu says. "And we were really proud of the diversity that we were able to capture in that first issue. The artists hail from about 30 different ethnic backgrounds, religions and Indigenous nations."
Volume 2 of Living Hyphen Is Coming Soon
The print magazine was only the beginning of the Living Hyphen community. In 2019, they started facilitating and developing writing workshops and storytelling nights for racialized communities in the Greater Toronto Area.  
In 2020, demand for their workshops grew as they moved online, with over 400 hyphenated Canadians participating in the last year. The team is currently putting together Volume 2 of the magazine — Yu says she received 700 submissions from all across the country for their second issue.  
"It's been such a gift ever since I started this project to be able to connect with all of these hyphenated Canadians from different generations, from different places — suddenly learning about all of these places and people and cultures that was never included in our educational curriculum," Yu says.
"And being able to work one-on-one with people from different backgrounds, identities and seeing them come into themselves and embrace their stories and suddenly have this light bulb moment of, 'Oh, my stories are worth telling, there is value in this. There is a community that holds it dear, that cherishes it, or that holds it as important,' — is just the best feeling in the world."
UPDATE: In Sept. 2022, Living Hyphen also released The Stories of Us,  a unique publication that aims to empower newcomers to learn English through their very own stories. It's being described as the first-ever English as a Second Language (ESL) library of stories written and told by newcomers, for newcomers.