In the front lines of the Black Lives Matter Movement, Black womxn and Womxn of Colour are standing with their fists raised in solidarity. In Saskatchewan, the call for change is louder than ever. The injustice towards Indigenous peoples and the threat of xenophobia are continually being swept under the rug. Womxn and mxn of SK are standing together in rallies, sharing the racism they experience on a daily basis. Their determination to find change in the Queen City and Saskatoon is creating a ripple effect in the heart of Saskatchewan. The Womxn of BLM are working tirelessly to share the impact of systematic racism and micro-aggression in the daily lives of Black people. Two womxn of BLM highlighted here are Carol LaFayette-Boyd and Faith Olanipekun.
Speaking out for BLM and against racism and the death of George Floyd
Carol LaFayette-Boyd is a second-generation Canadian whose African-American grandfather came to Canada in 1906. In her speech during the BLM protest in Regina, she wrote, "In 1956 when we moved to Regina, I believe we were the only Black family in the city. There had been others before that, but had moved away. I do not recall any racism towards me directly, but there were problems with rental housing and as I result my family found it better to purchase a house than rent. What I did see is that as more people of African descent arrived, the more discrimination became evident. So, the third generation of children in our family experienced racism that I did not. This murder of George Floyd has affected many as the last straw. As a mother, I am in tears as I write this, as my son who was 6 foot 7 was called a Gentle Giant. He experienced racism as a Black man. I am reminded that it could have been him, especially if we had remained in the United States. I cry for every mother and family who has concern for their children as they leave their home every day, praying they will return safe."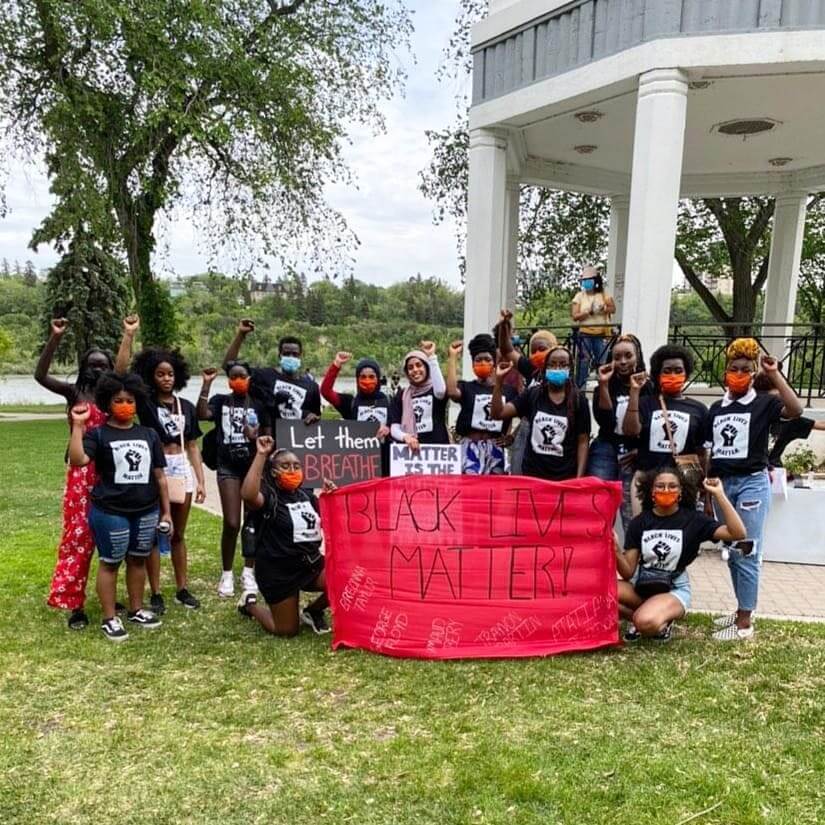 Womxn of BLM speak out against systemic racism, racial bias and microaggressions
The struggle to explain the importance of BLM is a big issue for Womxn and Mxn in the movement. During the Regina Protest, Faith Olanipekun explained, "Many people like to say racism does not exist in Canada but it's woven into the very fabric of this country. As a child of immigrant parents, I have had to deal with microaggressions and racial bias from the first day I stepped foot into this country. There are days where I stay in bed instead of going out because it is better than having to face a world that hates me simply because of my skin tone.  Systemic racism is REAL, police brutality in the Black and Indigenous communities is REAL. To my black siblings, I feel your pain, I understand your exhaustion, but we cannot stop now. We need to dismantle and rebuild this oppressive system that is killing our mothers, our fathers, our sisters, our brothers and our friends. Now is not the time to give up; now is the time to stand up and FIGHT for our lives. All Black Lives Matter."
The journey each Black womxn faces in their life is laced with strong emotions like anger, defeat and hopelessness, but even with the feelings of rejection weighing our shoulders, we stand stronger together. Our fight towards the end of systematic racism for our family and ourselves is just beginning. Each day, as we walk steadily to a better future, we know that we have the support of other wmxen in the BLM Movement. Our determination for change allows us to raise our fists higher in solidarity.
Photo of Peace Akkintade, credit Tomi Ojo, Instagram