Tobin Lake — a mere two kilometres from Nipawin, and home to lush forests, beautiful golf courses, rich fishing, and views of the northern lights — seems like a prairie paradise in the summer. Tressa Moroz and Curtis Lockwood, a husband and wife duo who own Aurora Houseboats, are trying their best to contribute to the lake's inherent sense of rest and relaxation. They want you to enjoy this beautiful spot with a summer vacation on Aurora houseboats.
Since 1999, the couple have owned a business that's centred upon enjoying the lake. At first, it was modest, featuring two houseboats to rent on the lake, and fishing supplies for sale, but over the years, and thanks to Tressa and Curtis's commitment to investing in their business, it's blossomed. It now features a fleet of five boats, the largest of which can accommodate 16 passengers.
For Aurora, customer experience is everything. Throughout the aughts, clients detailed their satisfaction with Aurora, but shared one suggestion: a houseboat with a hot tub. Aurora bought one in 2010 — and seeing how successful it was, bought another in 2012. These boats, along with the three others, are kept in spotless condition, but Aurora's commitment to the customer runs deeper than providing clean, comfortable houseboats.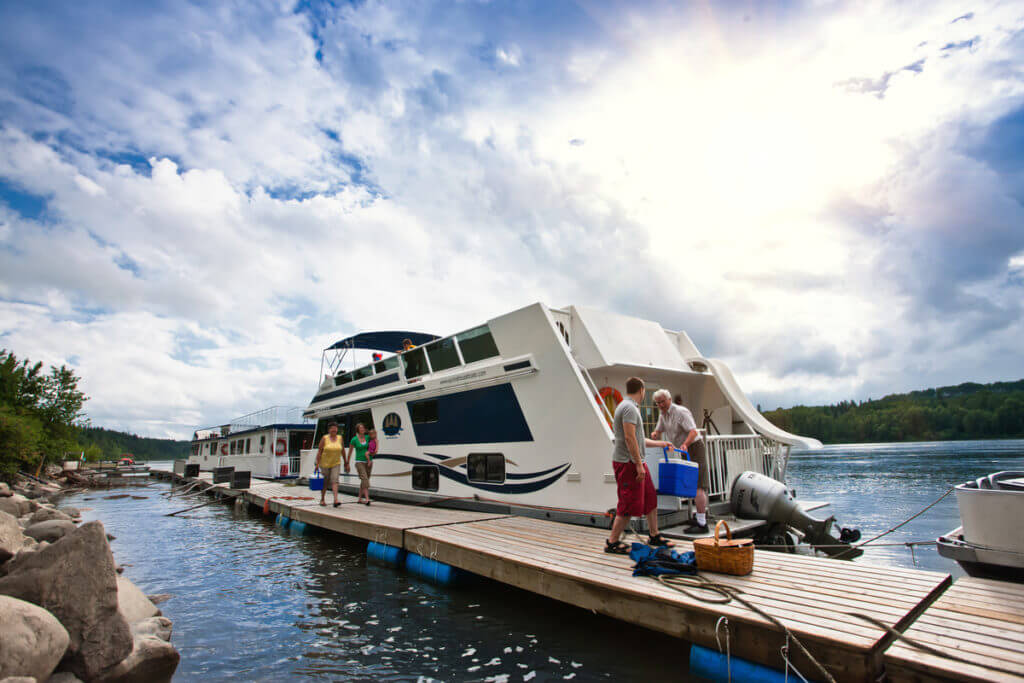 Owner Tressa Moroz stresses the importance of creating memories and offering quality, personable service. Because Aurora often hosts celebrations — weddings, bachelor and bachelorette parties, honeymoons, retirement parties, and bucket list vacations — Tressa works hard to ensure that groups feel special. Aurora Houseboats are often decorated with birthday balloons, banners and themes to best suit the group.
For Tressa, this personal touch comes naturally. As a child, her favourite summer vacations happened on a houseboat. Now it's her goal to create similarly meaningful memories for her customers. Although business is important to Tressa, she treats customers like friends and cherishes seeing groups return, year after year, with larger families and taller kids.
While COVID-19 social distancing restrictions have affected Aurora, they remain available for rental. Until June 8, they can accommodate groups no larger than 10 people, and after the 8th, they can accommodate groups of 15. They currently offer three, five and seven-day houseboat packages.