The cannabis industry continues to grow at a rapid pace as 18 states in the U.S. have now legalized its use. On a global scale, innovative brands are revolutionizing the way we think about weed, while working overtime to remove the stigma surrounding cannabis use once and for all so we can all enjoy its healing benefits.
Women in Weed Are Killing the Cannabis Game
It's no surprise that many of these game-changing weed brands are women-owned and operated as gender dynamics continue to shift in the business landscape. In fact, according to a 2019 study by Marijuana Business Daily, 37% of cannabis executives are female compared to just 21% in other industries.
With captivating branding, science-backed products and positive messaging around weed, there's no doubt women-owned cannabis brands are making a big impact on the industry. Here are five female-founded weed companies that are killing the cannabis game:
1. EstroHaze
Founded by Kali Wilder, Sirita Wright and Safon Floyd, EstroHaze is on a mission to raise awareness about the lifestyle benefits of cannabis. The women launched their online educational portal to inspire and uplift people interested in learning more about cannabis-infused products, practices and philosophies. EstroHaze offers tips, tricks and entertainment for integrating cannabis into your life in creative and sustainable ways, while building a supportive community for like-minded people.
2. Miss Grass
Miss Grass is a modern brand that offers CBD and THD products to elevate your lifestyle while providing education on the science, history and culture of cannabis. Check out their informative articles, like this one about the racialization of cannabis in the United States. The female-founded company does it all through the lens of conscious consumption and creating an equitable industry for everyone. Kate Miller is the co-founder and CEO of Miss Grass. Miller and her business partner, Anna Duckworth, stated on the Miss Grass website that the cannabis industry has the power to shift the political fabric of the U.S. by "addressing and repairing harms caused by the War on Drugs."
3. Garden Society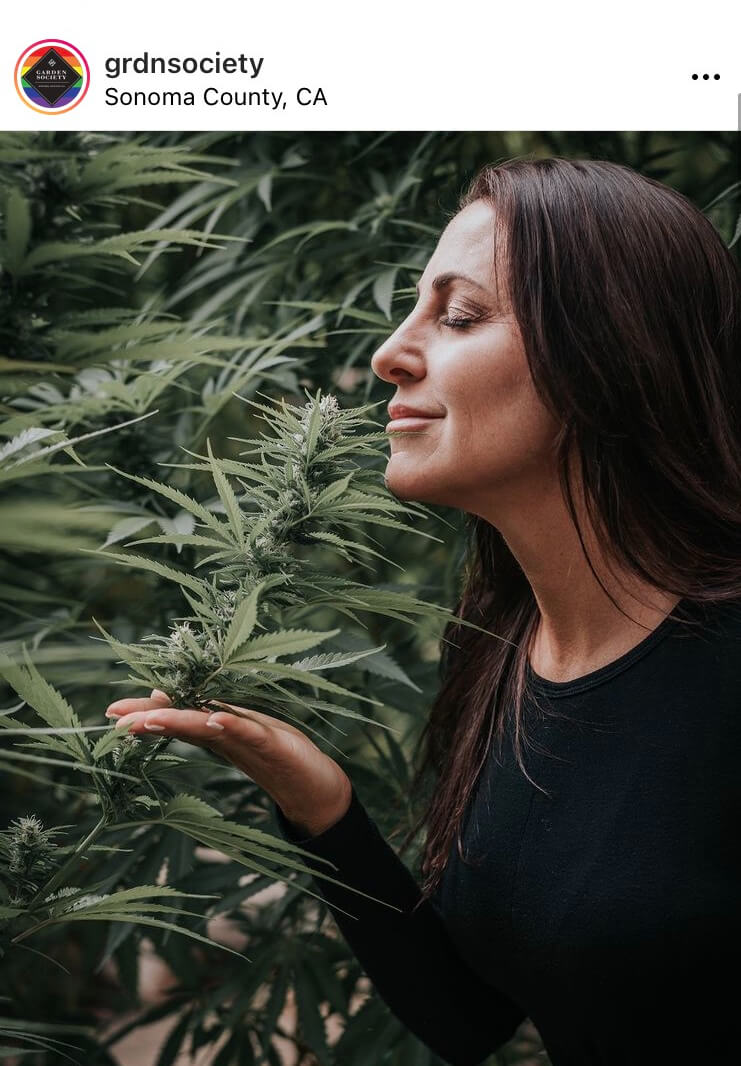 Offering handcrafted cannabis products made from sustainably and responsibly sourced ingredients and finished with beautiful, colorful branding, Garden Society is bringing a fresh approach to the industry. Customers can choose their products based on the desired effect they're after, whether it be blissful rest, a brighter day, or calm and focus. Whichever experience you choose, the company states all their products offer a boosted quality of life and an enjoyable cannabis experience. The company was founded by Erin Gore and Karli Warner, two women who are passionate about advocating for the healing benefits of weed and rewriting the narrative surrounding the plant.
4. dreamt
If you're looking to dabble with cannabis for its sleep-inducing benefits, you'll definitely want to check out dreamt, California's "number one cannabis sleep brand." The company was founded by scientist and product developer Carolina Vazquez Mitchell. After nothing could help her fall asleep, she developed a formulation combining cannabinoids, terpenes and other common sleep supplements. That formulation became dreamt. Marijuana users living in California can try it if they're looking for a natural and effective way to get a better night's sleep.
5. Oracle Wellness Co.
Oracle Wellness Co. was founded by Megon Dee, a chef who moved to Portland in 2016 in the hopes of navigating the legal cannabis industry using her culinary skills. She founded the company to help people cope with conditions like depression, anxiety and PTSD using cannabinoids and terpenoids. Today, Dee continues to act as a passionate advocate and educator with the ultimate goal of legalizing and normalizing cannabis use across the U.S. "Working with this sacred plant has been the most defining and important highlight of my career as it has aligned me with my purpose," she stated on her website. "As a black queer woman and war on drugs veteran, I am a pioneer of futuristic cannabis, legalization, and normalization developing globally."
Cheers to women in weed 🥂! Let's toast with a cannabis-infused gin cocktail, and here are more inspirational people working in the cannabis industry.