As if the past few years haven't thrown enough at us, now Canadians have a federal election to contend with. One major group of voters include young people, defined as those aged 18-35.
Historically, this demographic has been apathetic towards Canadian politics. One organization, Apathy is Boring, is working to change that.
Age is the Strongest Predictor of Voting
According to an Elections Canada study published in 2018, age is the strongest predictor of voting. Voting itself signals a certain level of civic engagement, which is considered an important part of a healthy society. Civic engagement is important because it creates trust, as well as a two-way relationship between policymakers and citizens.
Trust between the Canadian government and its citizens is fractured. In fact, only 19% of Canadians have a strong trust in Parliament, while only 10% trust political parties. Some of the survey respondents said young people were less likely to vote because they were disillusioned about politics and sick of the "false promises, dishonesty, hypocrisy, corruption and negativity." In a society plagued with issues like Facebook misinformation, Russian web trolls, and a divisive 24-hour news cycle, it only serves to compound the problem.  
This divisiveness, while objectively bad for society as a whole, actually seems to make young people a little more interested in politics. On the one hand, there is more polarization than ever. On the other hand, issues that once seemed abstract and unimportant now seem urgent.
Apathy is Boring has been working around the clock to try and reconcile these two facts.
Apathy is Boring Wants Youth to Be Engaged in Democracy
Apathy is Boring was founded in 2004, when a choreographer, a filmmaker, and a fashion photographer met at a party. Troubled by how few of their friends were actively participating in Canada's democracy, they started an online campaign to mobilize youth to vote during the 2004 federal election.
Today, the organization works year-round to support and educate youth to become active and contributing citizens in Canada's democracy. Their vision is a Canada where every young Canadian is meaningfully engaged in all aspects of the democratic process. Every year they run nationwide campaigns and programs to rally youth to vote.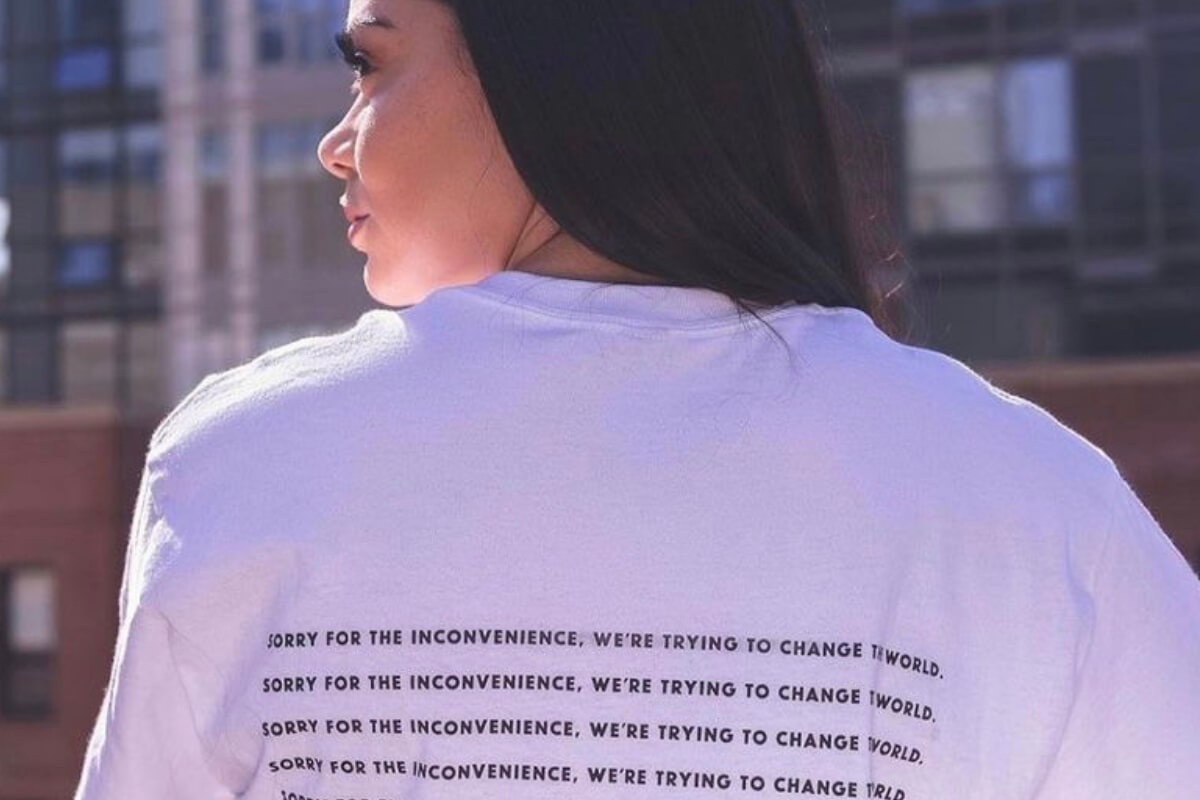 Apathy is Boring Director Urges Youth to Vote
We interviewed Samatha Reusch-Desautels, the Executive Director of the organization, about why it's so important to get out the youth vote, especially during this contentious election season. 
Why is voting so important?
The outcome of any election impacts you. In the past, those impacts were not so obvious to youth voters, but we've seen the real-time effects of policy and leadership during the pandemic. Governmental intervention, on all levels from federal to municipal, impacts us in real ways. 
It is especially important that when these policies are being created, all Canadian voices are represented. If people don't vote, then democracy doesn't work. Young people's voices need to be taken into account.
Youth voter turnout rates in previous elections have been somewhat low. Do we expect it to increase?
Actually, over the past several years, statistics show that youth are becoming more interested in Canadian politics and more likely to vote. In the 2015 federal election, about 57% of youth showed up to the polls, compared to 66% of non-youth voters. Of the 43% who did not show up to the polls, 57% cited motivational reasons. 
The crisis of the pandemic, climate change, and racial equity movements have moved the needle. During the most recent Canadian elections, we've seen that turnout increased among young people in the 25-35 age range. We think that many people were watching what was going on in the US and seeing voting as preventative. 
What are some important policy issues coming up in the 2021 federal election and which ones are youth most likely to care about?
Obviously, the pandemic continues to be top of mind. As the fourth wave of the pandemic rages in Canada, it's no wonder. Other issues that are very important to youth voters include climate change, racism and ethnic intolerance, post-pandemic economic recovery, jobs, and affordable housing. 
What are some of the strategies Apathy is Boring is using for youth engagement during this election cycle?
Pre-pandemic, we ran street teams and many events, but now we have pandemic-era engagement strategies that have worked wonderfully. We are running a large digital campaign to educate the public on election basics, like where, when, and how to vote. Beyond that, we're also running a digital campaign spotlighting why to participate. 
How to Encourage Friends and Family to Vote
So, now the question remains for us, the engaged Canadian youth: how do we encourage our friends and family to vote when they don't want to engage with a system they don't trust?
According to Apathy is Boring, there are a few ways to help convince those around you. First, we have to understand that youth are not totally disengaged; they are differently engaged. Young people see systemic issues with traditional forms of participation and choose to focus more on community-based or social-movement forms of engagement. Encouraging those around you to explore party platforms to find aligned values may help sway people towards voting. 
Second, respectfully educate your friends and family on the impact of government in their daily lives. Government policies do impact us, whether we trust our politicians or not. From highways to tax rates and public transit, we are interacting with policy choices every day and it's our collective responsibility to hold our leaders accountable for the choices they make on our behalf.  
More Great toast Stories
Check out these stories about inspirational people and gamechangers:
Lead photo credit Apathy is Boring