If you happened to be in the Riversdale area on June 12, 2021, you would have been witness to a small construction zone in front of PAVED Arts. Builders from Meraki Contracting were sawing and hammering away at what would shortly become the Riversdale Community Fridge, Saskatoon's first community fridge.
The construction that day was almost six months in the making. The idea was first sparked in the middle of January after community members heard about community fridges opening up in Regina.
Community Fridge Started to Meet a Growing Need 
Organizer Cleo Nguyen got involved by way of Food Not Bombs, which delivers vegan and vegetarian food to those in need.
"I've been involved in organizing efforts in the city in the past through other various groups, and I'm deeply invested in advocating and working towards community wellbeing in the long run," Nguyen says. "It's something I am deeply passionate about."
Nguyen and his friend, Nikaela, had been volunteering with Food Not Bombs for a while when they realized it wasn't quite enough to meet the need in the community. Nikaela suggested they start a community fridge and Nguyen was on board with the idea. Through word of mouth, the two eventually became a group of five who researched, advocated and found funding to make the fridge in Riversdale possible.
Several Challenges Faced by the Group at First
Although the fridge became a reality at a crucial moment — during an intensely hot summer — it took several months to make it possible. Nguyen says one of the biggest challenges was finding a host site where they could build the fridge and plug it into their power source.
"It took us a few months of back-and-forth emails and calls with various places until AKA Artist Run and PAVED Arts graciously agreed to enter into a contract with us," Nguyen says.
Once the group found a place to put the fridge, they also had to deal with the surrounding public health issues, fridge sanitation, and of course, COVID-19.
"We began to envision this fridge back in January 2021, and a lot of people were in disbelief that we could make this work while following health regulations and keeping the community safe," Nguyen says. "Though it is less likely for COVID to be obtained through surfaces and little proof demonstrates a connection to food, there was still lots of hesitation. Lots of places we reached out to be our host site turned us down for these reasons, which is fair enough."
A local business in Saskatoon, Meraki Contracting, stepped up to build the fridge and did not charge the group for their labor.
Organizer Hopes Fridge Inspires Action
Although the implementation of the community fridge is a boon for the community, Nguyen cautions people against thinking it will solve all food insecurity issues in the area.
"Food insecurity exists widespread across the city," he says. "Having delivered hampers with Food Not Bombs, I recognized this very early on — neighborhood is irrelevant, though food-insecure households may be concentrated in some areas — this is a city-wide issue. In starting this project, we actually hoped to inspire people to recognize that they, too, can take action and hopefully start their own."
As an example, Nguyen says that Sutherland is another neighborhood where the group considered setting up a community fridge because of the need in the area. Though it may seem like there are countless non-profits or grassroots organizations to help deal with food insecurity, Nguyen adds the reality is that "the demand is far too high, and the more folks who join the fight against food insecurity, the better."
Community Fridge Operates on Good Faith
Since the community fridge has opened to the public, there have been a few misconceptions the group has had to clear up about its use — like that there are limits to what individuals can take. For example, some people thought you could only take one can per person.
"There is no maximum or minimum in which an individual is able to take from the fridge," Nguyen says. "It operates on good faith via the principle: 'Take what you need, leave what you don't.' We do not seek to guard resources from one another."  
Community Fridge is Run by 'Neighbors Helping Neighbors'
Another common misconception is that community fridges are a form of charity.
"We emphasize the difference between solidarity and charity, and one way that difference is made clear is that the community fridge isn't run by some bureaucratic official organization — it is kept going by members of the community, by neighbors helping neighbors," Nguyen says. "Everyone has something to offer and contribute, and in doing so we act in collaboration through mutual efforts."
Guru Nanak Free Kitchen is another grassroots group in Saskatchewan that tackles food security by providing free meals to hundreds of people in Regina every Sunday.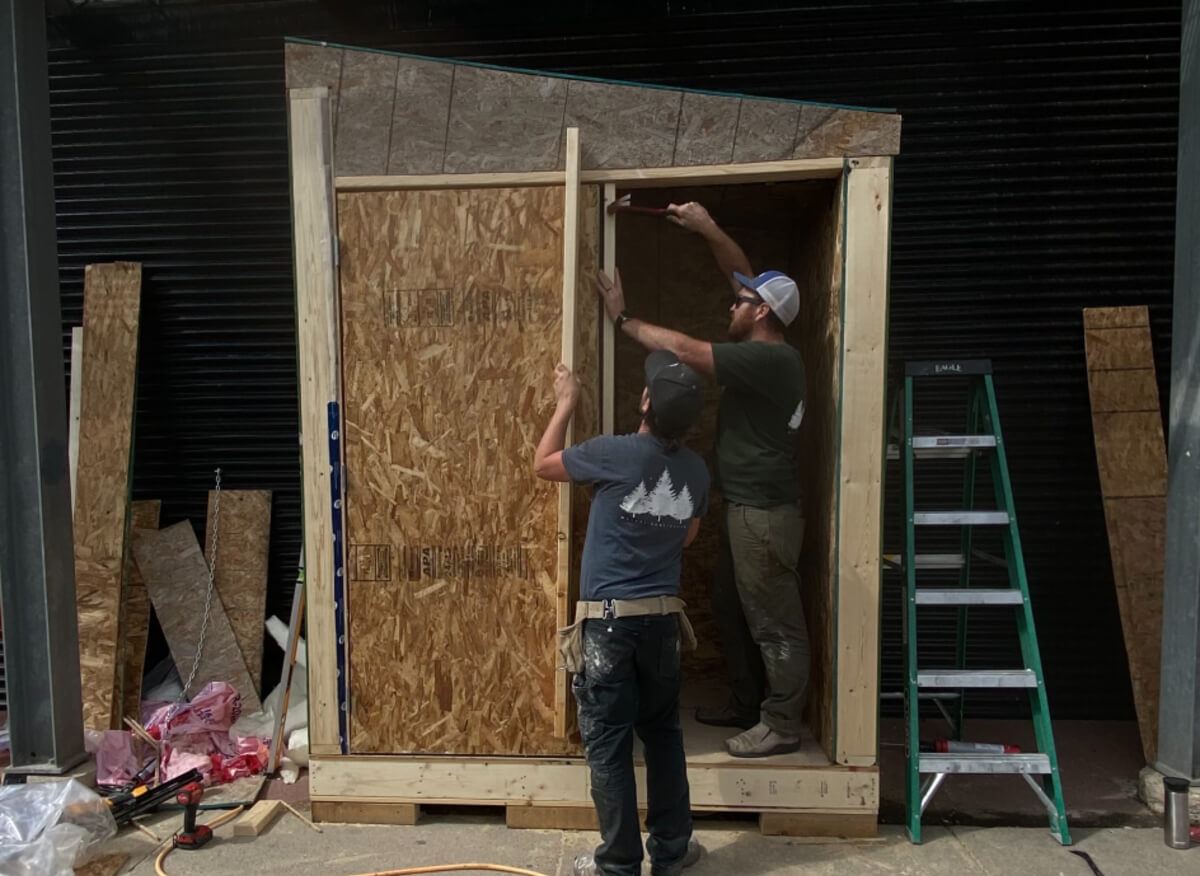 Providing 'Immediate Relief' to the Community
On June 12, when the fridge started taking shape at 8 a.m., Nguyen and the rest of the group were present until 5 p.m., when it was finally complete and ready to be stocked with fresh fruits and vegetables, water bottles, frozen treats and dried and canned goods.
"We know community fridges are not going to eradicate hunger, food waste and poverty in our city," Nguyen says. "We acknowledge we are a short-term solution, but we figured we could at least provide some immediate relief."
He hopes others see this as an opportunity to also get involved in the community and do what they can to help: "Remember that people are kind and caring and there is always somebody out there willing to help. Don't be discouraged by thinking your efforts are mundane or silly."
How to Fight Food Insecurity in Your Community
For people who are interested in getting involved, Nguyen suggests a few different ways to do so.
1.Give monetary donations to local food banks and services that are working to address food insecurity, such as the Friendship Inn and the Saskatoon Food Bank.
2. Volunteer with a community garden or start one. Lots of community gardens provide fresh produce for food banks and community fridges. Gardening is also a great way to live a greener life as it can have a big impact environmentally and lighten your carbon footprint.
3. Contact elected officials and express concerns about food insecurity in the city, and ask about future policies to be set in place to address food insecurity whether that be through increased funding or infrastructure.
4. Give directly through a food donation. Folks are welcome to stop by and donate to the fridge as long as it follows the guidelines listed on their Facebook and Instagram pages, or they can give a monetary donation that goes directly into buying orders to stock the fridge or related maintenance costs.
5. Volunteer with the Riversdale Community Fridge. A volunteer application can be found here.  
Lead image: Danielle, Nikaela and Cleo pose during the construction of the Saskatoon Community Fridge | Photo credit Cleo Nguyen