Agility. The ability to change and control the direction.
More than ever before, the need for an organization to be agile has become paramount. COVID-19 came quickly; within days many people and organizations were having to pivot and adjust to find a new normal in their day-to-day operations.
For Cultivator powered by Conexus, COVID-19 presented many challenges to its day to day operations; however, being very iterative and agile by nature, as well as already having remote team members, the transition from formal programming to virtual programming went quite smoothly.
"Founder motivation is naturally strong as these individuals and teams are solving major problems for massive global markets," says Jordan McFarlen, Cultivator business incubator manager. "Though COVID-19 threw everyone an unexpected curveball, our team and startups were able to quickly adapt using a variety of virtual tools to stay connected."
Startups and teams within the Cultivator space transitioned from working together at its location in Innovation Place in Regina, to working from home the week of March 12. The business incubator's programming, which typically occurred in-person moved online, providing continued virtual support for founders such as coaching, mentorship, regularly scheduled sessions, access to experts such as Cultivator's CFO in Residence program, and much more.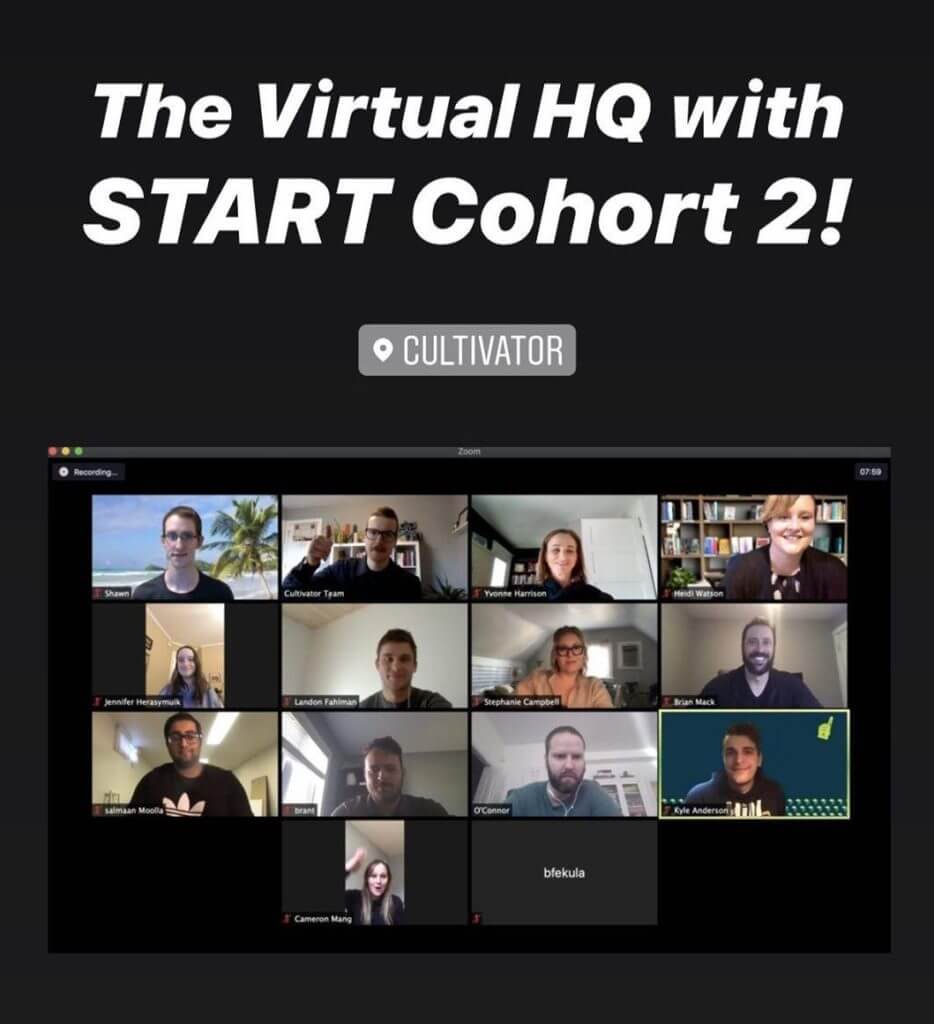 "For us, it was about ensuring that we kept our teams' motivation and momentum high," says McFarlen. "We shifted quickly to providing the same supports as we did in-person, but through virtual tools ensuring our startups could continue connecting with world leaders and have the best information possible to help them continue thriving even in these times of uncertainty."
A physical space bustling with people creates many opportunities for creative collisions that fuel collaboration and sharing. Using a variety of tools such as Slack, Zoom and Notion, Cultivator founders and startups were able to maintain connectivity, both formally and informally. With a quick click of a button to start a chat or video call, startups are able to connect with others to ask for advice, feedback or problem solve. 
The Cultivator Team looked for ways to continue connecting with the startup ecosystem, and on April 30, they hosted its first virtual CultivateYQR "At Home" event, a digital take on the monthly event series focused on bringing people together, sharing thought leadership and inspiration.  The event was a huge success, with more than 150 virtual guests from across North America tuning in to watch finalists from Cultivator's START cohort pitch their business ventures to a panel of judges for the chance to win $10,000. Taking home the prize was HotSpot, an app that connects restaurant, bar and pub owners with customers.
"Our startup ecosystem came together while remaining apart, and our first virtual event was more than we could have ever imagined," adds McFarlen. "This was a great opportunity to learn from the success of our first virtual event, and as it becomes safe to resume face to face connections, we'll be looking at how to create a hybrid approach for our future events — combining the experience of both in-person and virtual."
Though COVID-19 posed some challenges, Cultivator faced the challenge head on, adapting quickly and finding a new, temporary, norm to continue serving its startups. For more information about Cultivator powered by Conexus, visit www.cultivator.ca.
Cultivator is Canada's first Credit Union-led incubator proudly grown by Conexus Credit Union. They help innovative Saskatchewan startups launch, grow and scale. Facebook | Twitter | Instagram