Opening a business can be daunting under normal circumstances, but despite the COVID-19 pandemic, Regina was lucky enough to continue welcoming new businesses to town. Elle's Café and Midsummer Slumber Parties are just two new additions to Regina in the past six months.
What makes these places unique is not only did they open during the middle of a pandemic, but they did so while supporting local businesses themselves, empowering their community and making a profit.
Elle's Café Opened in the Middle of the Pandemic
Elle's Cafe has taken up residence in the heart of the Cathedral neighborhood. Owned and operated by sibling duo Elle and Henry Grzeda, and Chase Hall, the café opened in the middle of the pandemic on December 5th, 2020.
Four months later, they unveiled their ice cream window featuring the only Dole Whip ice cream in the city. Opening during COVID brought its own set of unique challenges, but Henry Grzeda says what got them through was "focusing on being successful and doing their absolute best."
How Elle's Café Pivoted During the Pandemic
Whether it was reinventing their seating area, or pivoting to offer services such as curbside pickup, all three worked seamlessly together to leverage their biggest strength as a team: being flexible.
Standing out with their specialty items such as Dole Whip, Raspberry Truffle Frattes, and soups made from family recipes, is just one part of what Elle's Café is all about. The other part? Community. Elle, Henry, and Chase all grew up in Cathedral. Henry says it's surreal to remember: "As kids crossing the street and seeing it lit up. Everyone lining up at Dessart Sweets or going to 13th Avenue Coffee House — it really is a part of who we are."
Elle's Café on Supporting Local Vendors
It's because of community that Elle's Café has a focus on not only supporting local by purchasing items such as meat and bread from local vendors, but the owners are also passionate about giving back to the community.
As Elle says: "You build better when you have a good community on your back. By building up your community you're building yourself up." This is why they make sure to raise awareness for places in their neighborhood such as the Cathedral Community Fridge — initiatives they plan to continue to partner with even after the pandemic is over.
READ MORE: Guru Nanak Free Kitchen offers hundreds of free meals every Sunday to fight food insecurity in Regina.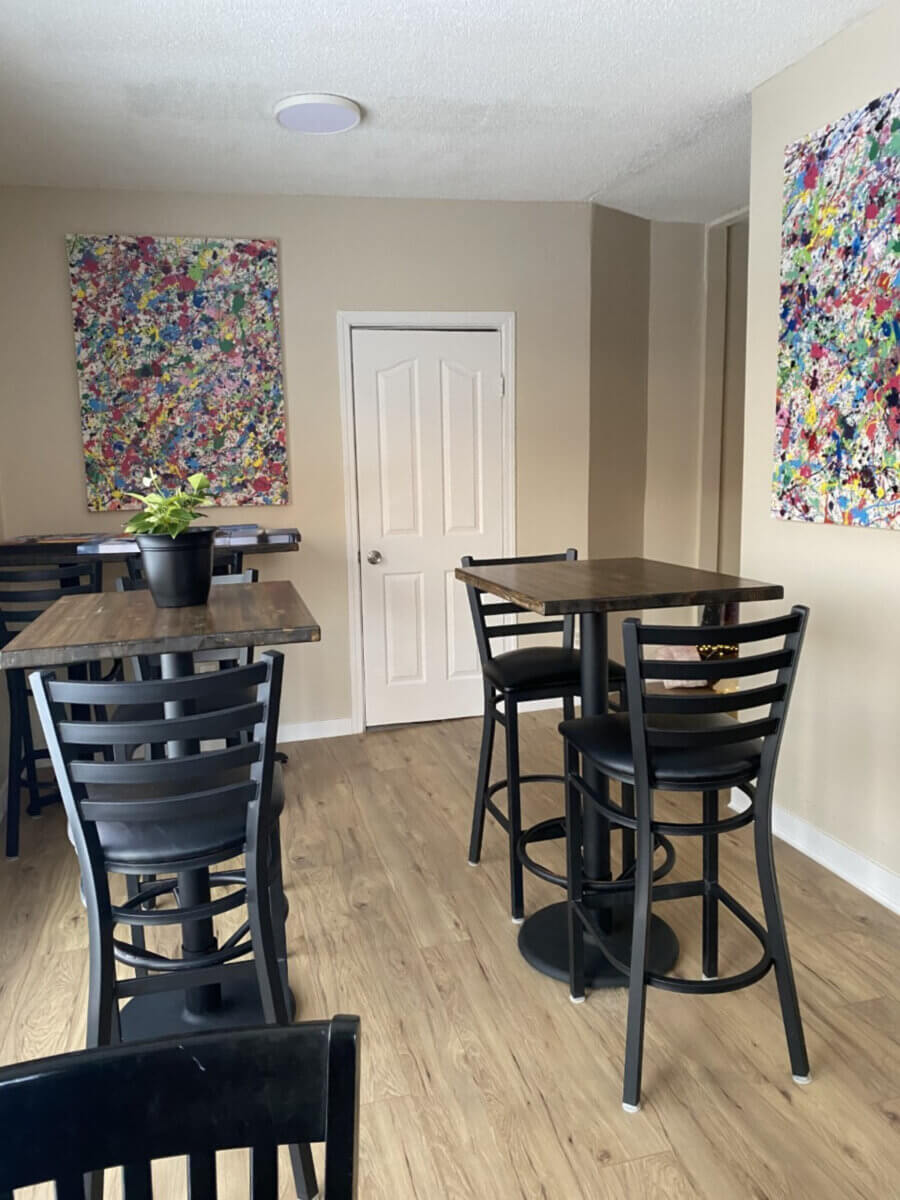 New Slumber Party Rental Business Opened in April 2021
Elle's Cafe is not the only local business to emerge despite COVID-19. Midsummer Slumber Parties opened its doors on April 20th, 2021.
Victoria Friesen, owner of Midsummer Slumber Parties, developed the idea after scrolling through Instagram trying to find unique birthday ideas for her three kids. Her business takes the stress out of planning slumber parties by offering three different curated slumber party packages.
Choosing from classic, starry night or campout, Friesen will come into your home and set up a COVID-friendly slumber party for up to six people. Each party includes a tent, mattress, sheets, comforter, themed pillows, accessories and decorations — and for an added bonus they do take down as well.
Midsummer Slumber Parties Supports Female Business Owners
Friesen's goal for Midsummer Slumber Parties was to offer something new and exciting parents could do for their kids that Regina hasn't offered before. Equally important was her desire to support local, and other women in business. Each tent was locally made by Tattered Thistle Decor, another female-run business in the city. "It can be really easy to buy kids' and party items from bigger stores, but whenever possible, if you can support local, that's always a better way to do things," Friesen says.
Not only does it come full circle as other local businesses have reached out to Friesen to find ways to collaborate, but it also stimulates the local economy. "As a local business you know the importance and value of being invested in, and so I want to do the same to the businesses around me," she says.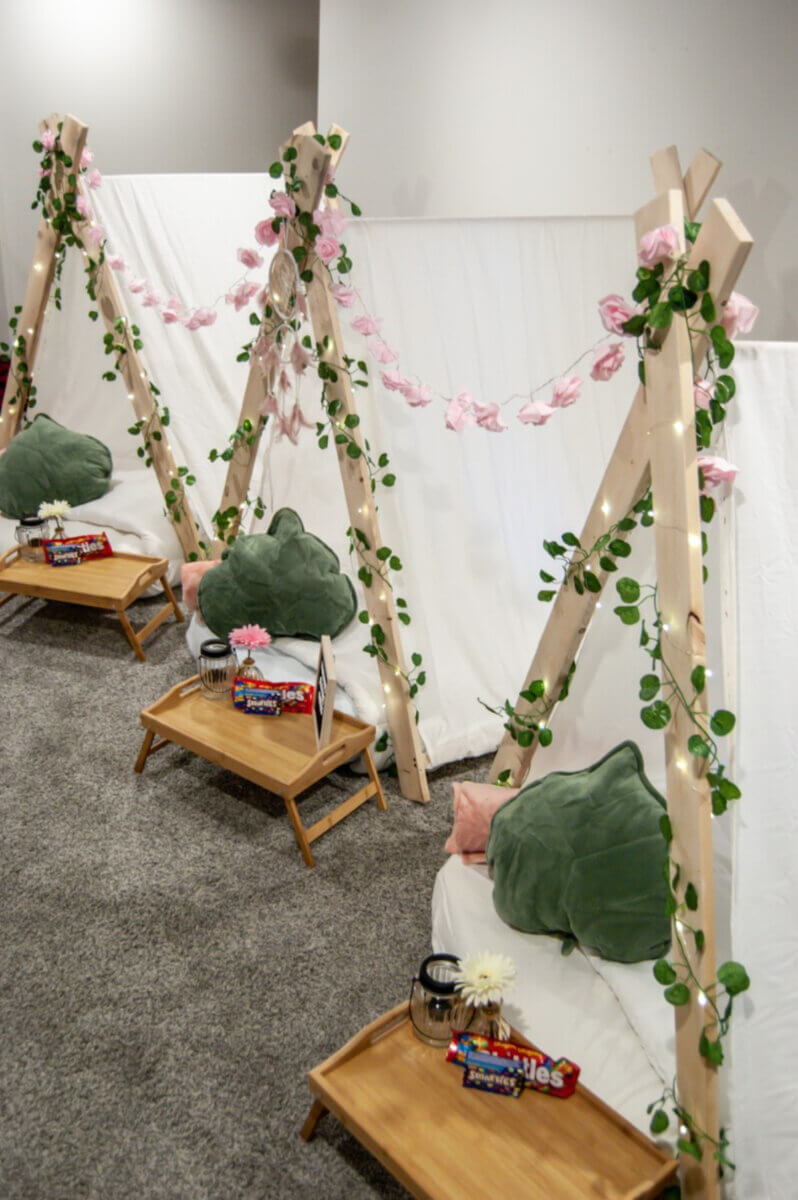 Being Adaptable Key to Running a Business
Postponing the opening of her business due to COVID never crossed Friesian's mind, which she says may have been a bit naïve. If there's one piece of advice she would give to anyone planning on opening their own business it would be: "You can never be overprepared, and make sure you're able to adapt to many different situations."
Overall Friesen is excited to have found a business opportunity that authentically reflects her love of people, party planning and hospitability.
"I feel super privileged to be able to open a business during the pandemic and am appreciating all the support from the community as we start out," she says.
Support Local Business in Regina This Summer
Inspiration has also hit to potentially expand Midsummer Slumber Parties into adult parties for bachelorettes or wine nights. For now, Friesen is looking forward to the summer, and the opportunity to bring smiles to children's faces as they enjoy a slumber party designed just for them.
With summer well underway in Regina, now is the perfect time to stroll past Elle's Café and grab some of their famous Dole Whip ice cream, or plan that sleepover for your kids you've been waiting all year for. Supporting local is one of the best ways we can give back to our own community, and the hearts of these businesses are clear: to keep their community close, while bringing a unique and joyful experience to the Queen City.
READ MORE: How Regina's Cathedral community is protecting local birds.