For Regina Police Service (RPS) Sgt. Tia Froh, when she was in high school and thinking about what to do for a living, she never imagined she'd be using something called Instagram and posting videos in a dog's voice — with a K9 named Merlot by her side.
Froh was in high school when forensics piqued her interest. She thought law enforcement would be the right path for her. The course ended up not being what she thought, so she decided to take the Rehabilitation worker certificate at Saskatchewan Polytechnic. After completing this, she went back to the University of Regina and finished an education degree.
As fate would have it, she was meant to be in law enforcement and Froh started with the Regina Police Service (RPS) in January 2003. She began working in the Regina Children's Justice Centre (RCJC) Unit in 2012. The RCJC is an integrated unit that investigates allegations of physical and sexual abuse of children.
"I really feel for people who have been victims of crimes against the person," Froh says. "It is a totally different thing than crimes against property."  
Implementing a Dog into the Regina Police Service
While attending a police conference, now retired RPS Chief Troy Hagen met Kimberley Gramlich, the founder of Justice Facility Dogs Canada. She was giving a presentation on how facility dogs work to support victims of crime and trauma in Canada.
And queue the puppy barks. After coming back from the conference, Hagan thought this would be something the RPS should implement. The idea for the RPS to have a justice facility dog was hatched and Froh was immediately interested.
"I thought, where else do you get the opportunity to create a program and make it how you see benefiting people the most?" Froh says. "I knew implementing the dog would be amazing. I had no clue at the time how I was going to do that [or] what I was going to be doing. I just knew it was going to be a good thing."
Justice Facility Dogs are Highly Trained, Accredited Dogs
To see if this would be a good fit for the RPS, they reached out to the Pacific Assistance Dogs Society (PADS) in Burnaby, British Columbia for information and training.
Justice facility dogs are not what a person immediately pictures when they think of a K9. They are specially trained, accredited dogs that assist victims or witnesses of crime or trauma. According to the RPS, facility dogs provide quiet companionship to vulnerable individuals in legal settings. They are specially chosen because of their calm demeanour and ability to work in a high-stress environment.
After PADS approved her application, Froh flew out to B.C. for some training and to meet Merlot, the two-year-old black lab who would become her partner.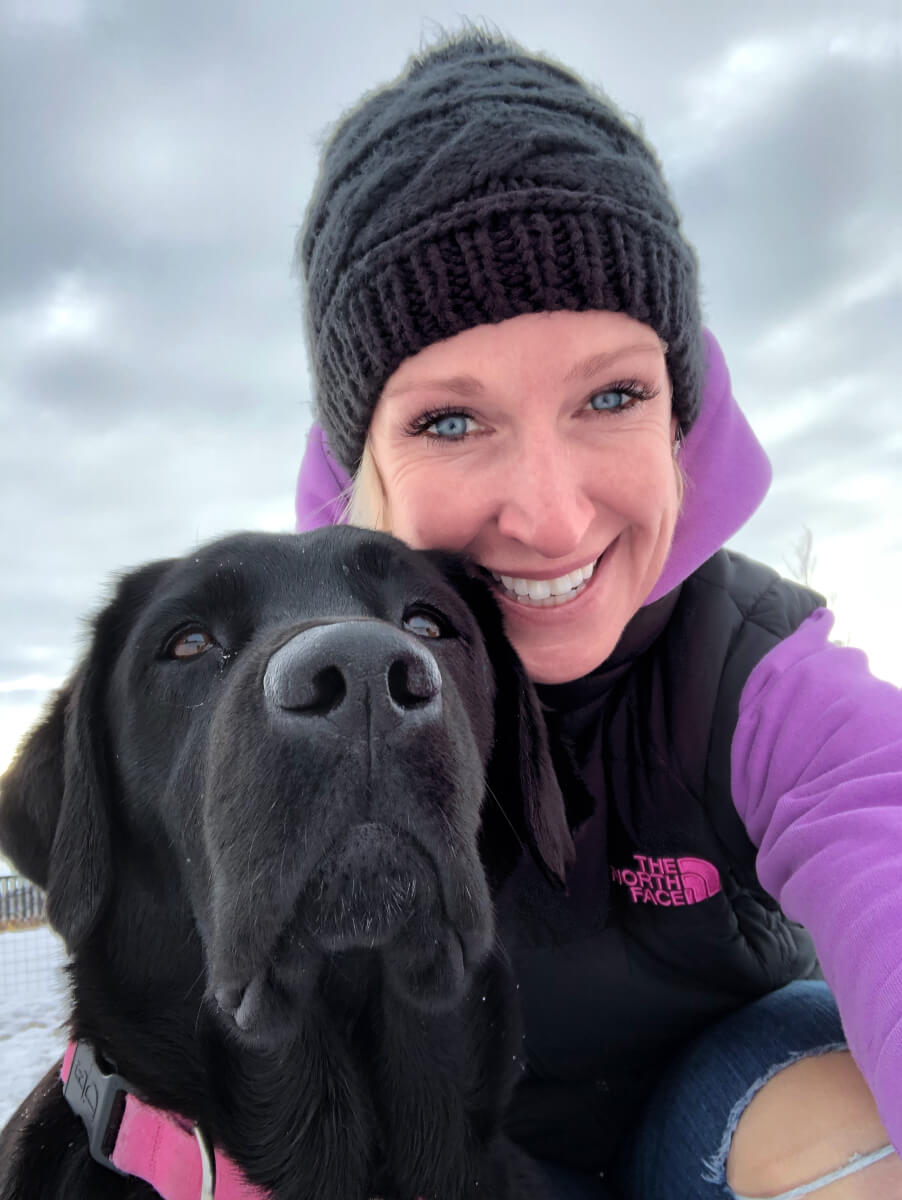 K9 Merlot and Froh Bonded Right Away
"Working with child victims is such a unique area and when the opportunity came to have Merlot in our section, I could see the benefit of having her work with our child victims," Froh says.
As per PADS policy, Merlot was specially matched to Froh and they were joined at the hip for training.
"They bring the dog out to you and you feel like you are bonded from that moment," Froh says.
In June 2015, Merlot was officially brought on board to the RPS. Froh and Merlot have been together 24/7 ever since.
"I feel better knowing that we are able to provide something for these individuals when they are going through such difficult times," Froh says.
How K9 Merlot and Froh Help Kids in Legal Settings
Children interviewed about a traumatic event are able to pet, cuddle, or hug Merlot, which means they feel more comfortable talking to Froh.
"We end up getting better statements because they are more relaxed and able to talk about their incident in more detail," she says.
Froh and Merlot have worked with more than 490 kids and there are 51 dogs like her working around Canada.
"It's nice to see as a police agency we are able to provide some sort of comfort to individuals when they are coming in," she says.
Froh Says K9 Merlot Helps Anyone Who Needs Her
As someone who has to listen to heartbreaking stories day in and day out, Froh says Merlot helps her too.
"If I haven't taken a break, she knows and will come bump my leg and give me a nudge to say you either need to dummy up or go for a break," Froh says. "We are together 24 hours a day. I may be cranky but I can talk to her and realize my life isn't that bad."
Although they specifically work with children, Merlot is trained for anyone who needs her and those big brown eyes and wet nose are also a comfort to Froh's colleagues.
"Merlot benefits my coworkers as well not just those in RCJC but also those in our main precinct," she says.
K9 Merlot Keeps Froh Going on Hard Days
Even on the days where Froh feels emotionally and psychologically drained, seeing the way Merlot helps people keeps her going.
"Seeing how much in a good way she affects the kids and their family is huge for me, seeing their smile towards Merlot after a tough interview or day in court is huge," Froh says. "I love seeing how much she helps everyone."
The Power of the Human-Dog Bond
The human-dog bond is special. Recognizing that preserving that relationship is vital to so many people, ElderDog is a Canadian organization working to keep seniors and older dogs together longer.
Doggies for Dementia is an Austin-based non-profit that saw how people living with dementia would light up when interacting with their beloved pets, so they started photographing people with their furry friends to dispel the dementia stigma.
And one advocate motivated is speaking up for free-roaming dogs and strays through Save Rez Dogs, and ensuring they're taken care of on reservations in Saskatchewan.