Introducing The Throwback Issue
Yesterday meets Today. In the next few months, Toast will move into retrograde and explore and reflect on those who came before us — innovators, visionaries and trailblazers — and how their influence laid a foundation for this generation. This series is about honouring the past and inspiring the future, and here we explore Indigenous culture inspiring fashion.
Part 1: Disa Acoose's ribbon skirts
Tansi! My name is Bill Stevenson. I'm a photographer living in Treaty Four Territory right here in Canada. Recently, I was inspired to interview and organize a photoshoot for two beautiful and creative indigenous designers who inspire those around them and I am excited to share their work with Toast.
In Part 1 of this series, I interview Disa Acoose, who calls herself the Boujie Auntie and we look at her beautiful ribbon skirts. In Part 2, I will be interviewing supermodel Janice MacGregor, who just recently won the Miss Regal World 2020 and is a former International Ms. Canada 2018, as well as a host of other achievements.
At Indigenous Round Dance celebrations, there are many beautiful ribbon skirts, which piqued my interest for this project.  Disa Acoose was someone I always wanted to meet and work with and I was finally able to catch up with her prior to our photoshoot and ask her some questions about her inspiration.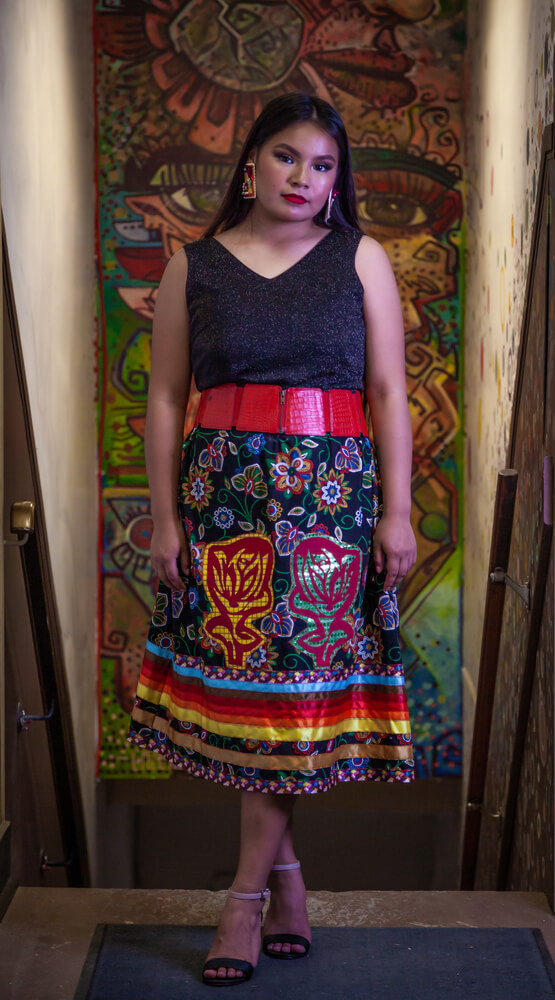 MODEL: Tianna McCabe Age: 16
I'm Navajo, Arapaho and Cree. Originally from Saskatoon, Saskatchewan, I grew up in Ethete, Wyoming. 
Hometown: Ethete, Wyoming
"Dwell on the beauty of life. Watch the stars and see yourself running with them." – Marcus Aurelius. 
Instagram @mccabe
Q: Tell us more about yourself. 
My name is Disa Acoose, and I'm Anishenabek, Nehiyaw and Metis from the Zagime First Nation in the Treaty Four Territory of Canada. I am a 41 year-old hardworking, single mother of four beautiful children, two of whom are in university and two daughters under 12 who live at home with me. When I'm not creating beautiful ribbon skirts, I work full-time in the community as a Continuing Health Care Aide as part of a Home Care team for my local Health Authority. Expressing our indigenous fashion has always been something I admire. I was one of those little girls who loved to watch models on the runway wearing the latest trends. I remember fantasizing what it would be like to be a famous couture designer and a model. However, I didn't start designing and sewing my own creations until I was 37.
MODEL: Stacey Fayant, Métis Cree Saulteaux and French member of Peepeekisis First Nation, living in Regina
Instagram @staceyfayant
Q: Disa, your designs are amazing and inspired. How do you do it?
My inspiration is always evolving and ever-changing. When I make skirts for myself to wear, I reach back to all the beautiful women from my family line, especially to my Kokum (that is, my great-grandmother) Eliza. She ignited my passion for creating and inspired and nurtured my gift when I was around the age of seven.
I remember staying with her for the holidays during my summer break. I have fond memories of us sitting quietly at her table in the afternoon, silently beading and creating. My great-grandmother was a talented and skilled creator and was eager to teach me all that she knew. It was our bonding time, and still, when I bead or sew, I feel connected to her, like she is sitting next to me, and we are once again quietly creating together.
Sometimes my inspiration comes from daydreams and night dreams, and sometimes I am asked to create a skirt for another person, and there is a story attached to it. For example, I made a special ordered skirt to be worn at a Drug Court graduation. I was extremely honoured to be asked to create this particular skirt for my relative. It was a life-changing, empowering moment for her and I loved that she asked me to be a part of celebrating her journey to healing.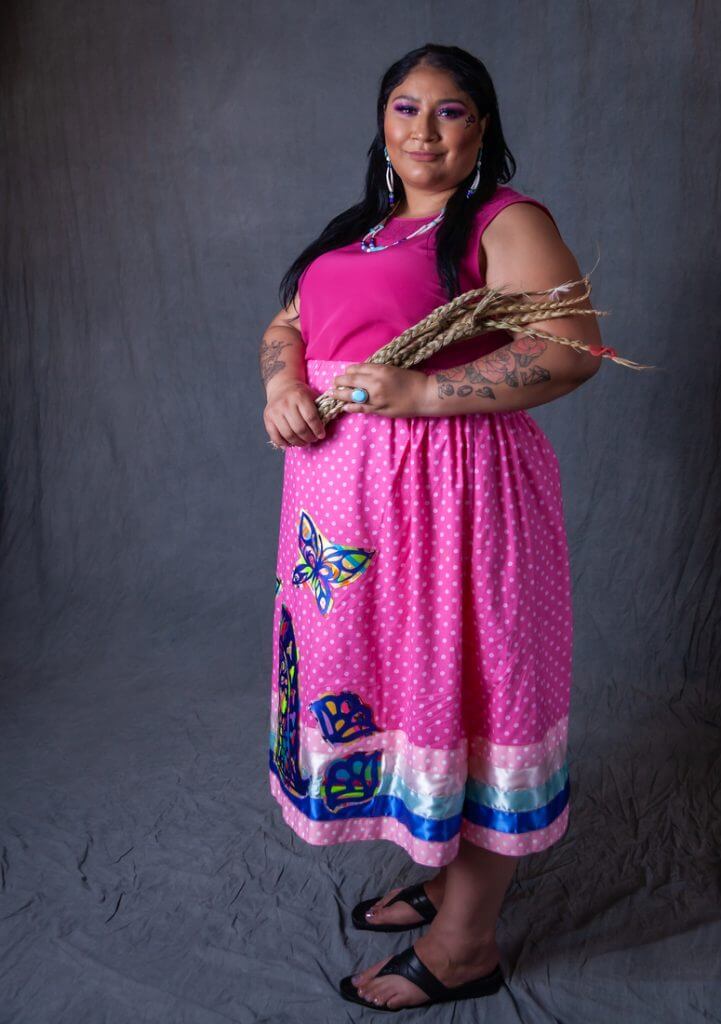 MODEL: Pamala Acoose, Sakimay First Nation
Recent Regina drug treatment court graduate in recovery; going on to the University of Regina in the fall for Social Work. 
"A diamond is just a lump of coal that did well under pressure" – Henry Kissinger. 
Q: Tell me more about your incredible vision and how it celebrates indigenous culture.
I love fusing together indigenous cultural styles, patterns and traditional attire with mainstream looks and designs.
We're in a time where Indigenous people are breaking free from limited societal and cultural beliefs about who we are as a people, and celebrating and defining who we are through celebration, and breaking free from the limiting societal beliefs about our culture. I am one of many artists from North America that were once known as Turtle Island. Together, we are creatively expressing and celebrating who we are through our art and design.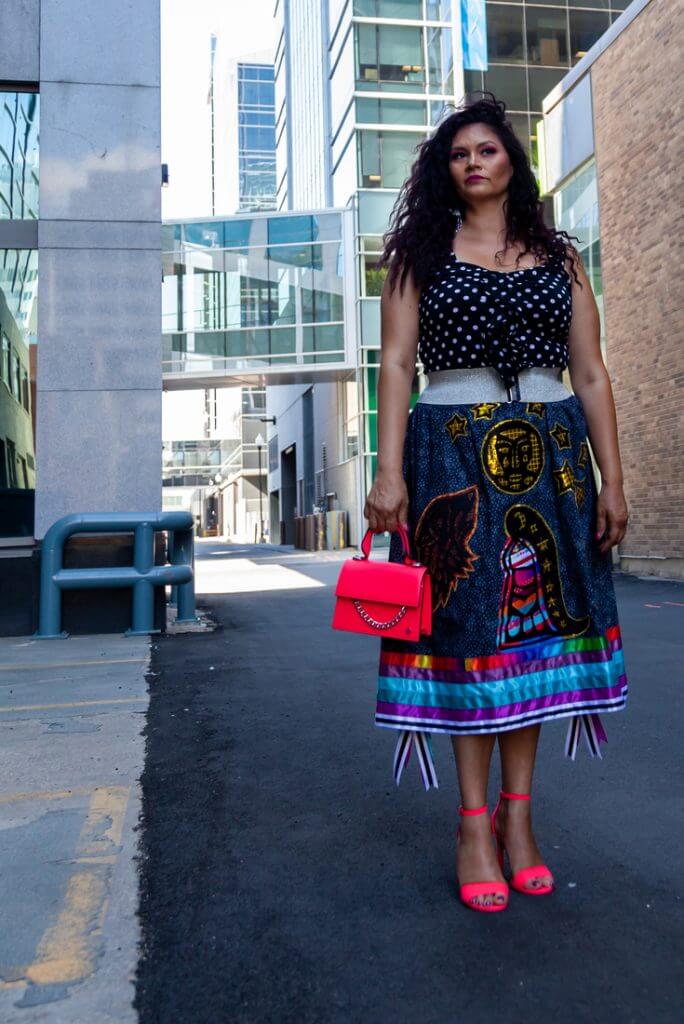 Q: How do you celebrate our history and everything we have been through?
Indigenous fashion tells our story. A story that is rich with overcoming colonization, expressing our heritage through the symbols and colours of our warriors. Sometimes it's certain materials and cloth we use in prayer. Often, replicas of ancient adornments our ancestors once wore with great pride which we continue to wear today in our ever-evolving and modern style. We dress as a tribute to our ancestors, we dance to celebrate our present, and this shouts to our future generations, "We are still here and we're striving towards the future!"
Designer: Disa Acoose, disalynnacoose@gmail.com
Makeup: Star FX Makeup Artistry (Instagram)
Watch for Part 2 with Janice MacGregor, the trailblazing supermodel from Miss Saskatoon.