When Dale Mychasiw installed his first Bitcoin ATM in Regina in 2014, he didn't expect it to grow to include nine ATMs and now a physical location.  
Although it may seem a bit paradoxical to open a physical location when selling digital currency, Mychasiw, the owner and operator of QuickBit Vending Systems Inc., says since cryptocurrency has gained popularity and become more ubiquitous, there's a need for this type of business in the community.
"Over the years I've been getting phone calls from customers asking, 'How do I do this? How do I do that?'" he says. "Today everybody knows about Bitcoin, but there are still a large number of people that don't know how it works."
Cryptocurrency Retail Space Helps Educate Costumers
For the uninitiated, cryptocurrency is a decentralized digital currency that you can buy, sell or exchange without an intermediary like a bank. The digital currency is secured by cryptography, which means it's difficult to counterfeit or double-spend. Bitcoin is a type of cryptocurrency.
Prior to opening QuickBit Crypto Boutique, Mychasiw would receive calls from customers at his ATMs with questions or concerns about how it all works. He would often drive to the ATMs to explain things in person.
He says that since people are more accepting of cryptocurrencies now, it makes sense to have a retail and office space where customers can come in and learn how to get started: "This can be a place where people can come and ask the questions, get the education on what they need to know about buying and selling — the risks and responsibilities that they're dealing with."  
Meeting a Growing Demand in the Community
Some people might view cryptocurrency as new, but it's almost a decade old and that shows in how Mychasiw's business has grown: more demand, more ATMs. The opening of a physical location has followed that trajectory.
"The growth of the ATMs has followed the market demands," he says. "Every year, from 2014 to 2021, the volumes have always succeeded the previous year. So basically, sales are not going down. Each time I've added a new ATM to Regina or Yorkton, it's always because the demand has been there."  
All Age Groups are Interested in Investing
Mychasiw didn't originally plan on getting into the crypto business. He'd been looking into other business opportunities but nothing piqued his interest or seemed too promising.
Then a friend of his introduced him to Bitcoin and Mychasiw took a gamble. At the time, he didn't know anything about it, but that didn't stop him from investing and learning as he grew his business.
As to who is buying what he's selling, the range of demographics interested in this type of investing may surprise you. Mychasiw says it spans all age groups, with customers from their early twenties to mid-60s coming in to purchase crypto.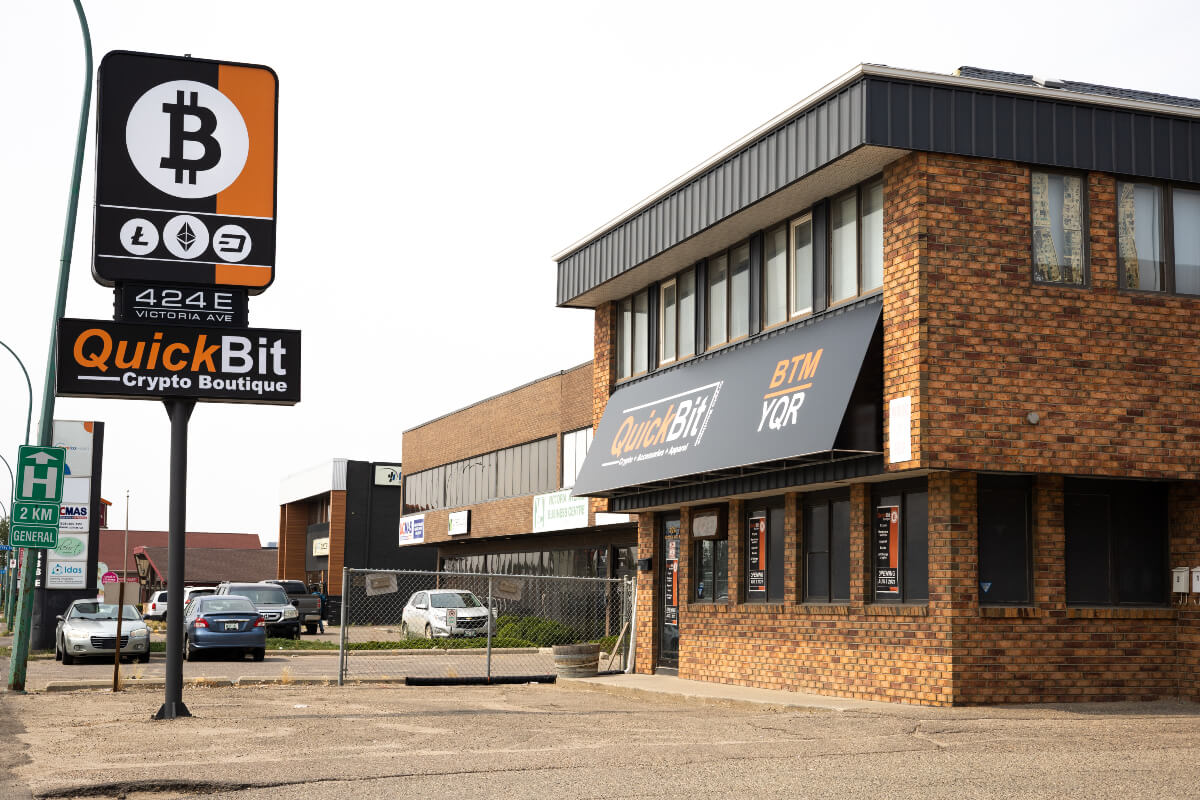 Crypto Described as a Way to 'Democratize the Markets'
Mychasiw says he believes the various demographics are buying for different reasons: the younger generations are more comfortable navigating the online world and have grown up purchasing things online. It's their version of normal and they are interested in getting into 'what's new.' As for some of his older clients, he says they're more interested in the investment side.  
"Older people, including myself, are interested in Bitcoin because of the value proposition of the cryptocurrency," he says. "We look at it as a way to transfer value without any intermediaries."
What Mychasiw means is that he, and many others who are interested and invested in crypto, see it as a way to democratize the markets: "A guy like me, we've lived in the current financial system all of our lives and we're tired of it. We're tired of paying taxes. We're tired of having to ask for all the permissions from the banks to spend money — all of the friction that's in the financial system."  
Business Owner Believes Bitcoin Gives Power to the People
For many people, this type of investing looks like an opportunity to make some changes to the system. Mychasiw does want to make it clear that he "doesn't think the existing financial system is bad or that I hate the government. We just realize that Bitcoin gives power to the individual and not the government or the bank."
Although Mychasiw has been doing well with his business, he does cast a critical eye at what he terms "mainstream media." He says there's a lot of fear, uncertainty, and doubt (or, as cryptocurrency enthusiasts call it: FUD) that's often used when talking about crypto.
"They're basically bashing it, saying it's bad, you know, 'Beware of Bitcoin,'" he says. "Because there are a lot of people who don't want Bitcoin to succeed. Governments and the banks, they don't want it to succeed because they lose control."
Crypto Has 'Potential to Change How the World Works'
However, that's part of what makes this foray into cryptocurrency so interesting for Mychasiw: its potential.
"It's fascinating how it has the potential to literally change how the world works, how humanity functions," he says. "When you learn about cryptocurrency, you learn about how the economy works, how humanity works."
QuickBit Crypto Boutique is open on 424 Victoria Ave E in Regina, SK, and currently sells Bitcoin, as well as educational resources and merchandise. The store also plans to offer educational courses in the future.
More Great toast Stories