Lead Image: Creative Options Regina (COR) started in 2009 to provide personalized support services to people with intellectual disabilities and often a mental health diagnosis. | Photo courtesy M. Lavis
---
Sometimes instead of waiting for a seat at the table, you have to pull up your own chair — and that's exactly what the team at Creative Options Regina did.
Creative Options Regina (COR) started in 2009 to provide personalized support services to people with intellectual disabilities and often a mental health diagnosis.
"It was a response to a need from the community," says Michael Lavis, CEO of Creative Options Regina (COR).
Lavis says there's a growing number of people who have complex needs and can't access the care they need, particularly when they're considered "challenging to serve." There are people who need to access multiple different services and often fall through the cracks because of gaps in the service delivery system. COR fills this gap by connecting individuals to whatever services they need in the community.
Creative Options Follows 'Gentle Teaching' Philosophy
Their organization follows the philosophy and practice of gentle teaching. As described on their website: "In a culture of gentleness, interactions are warm, welcoming and aimed at nurturing relationships based on equality and interdependence. Our focus is on building a sense of companionship and community with those we serve."
Lavis says their focus is to ensure the people they support feel safe, valued and respected: "I think this is something that is really important when we talk about a sense of safety because people often talk about safety through the lens of physical safety. Although that is important it's not the only thing that's important, we also need to look at that sense of emotional and psychological safety."  
Morianna Fink, COR's mentorship and outreach coordinator, says gentle teaching places the person first.
"The philosophy of gentle teaching is how we support people," Fink says. "Gentle teaching is important because it allows us to see the value in everyone we encounter… I believe it places people and relationships at the heart of how we serve and support them."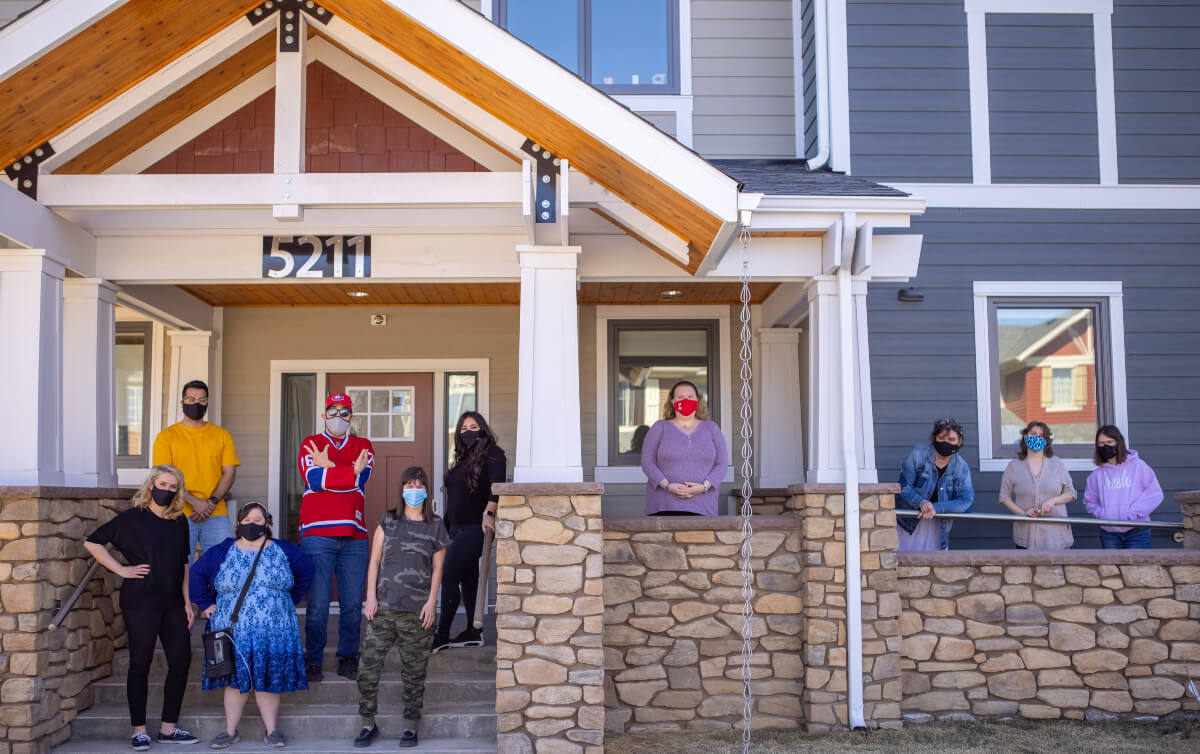 Creative Options Offers 'Unique' Arts Programming
One of the ways COR supports participants in Regina is through their studio, which offers arts programming in everything from music to photography and painting.
Ben Morris, the studio's creative director, says their arts programming is unique and beneficial for everyone they serve.
"I don't know a lot about art therapy but art is fun [and] it's different things to different people and sometimes people are doing art and they don't even know it," Morris says. "I think the people we serve benefit from being able to have choice."
Arts Programming Allows Individuals to Pursue Their Passions 
One of the individuals Morris works with is named Ruby Walker. She's utilized their services since 2010. The studio activity she enjoys the most is painting.
"There's every colour of the rainbow," Walker says. She adds that everything she creates has cultural significance, and her favourite thing she's made so far is a drum that she painted with colours meaningful to her culture.
It's not just Walker who benefits from the arts programming — Morris does too: "My time with Ruby is enriching because although I know Ruby Walker (and) I know her on that surface level, I get to learn about the things she's interested in and passionate about. I get to learn how to be passionate about those same things because they are important and unique… It's twofold — I learn from her just as much as she learns from me."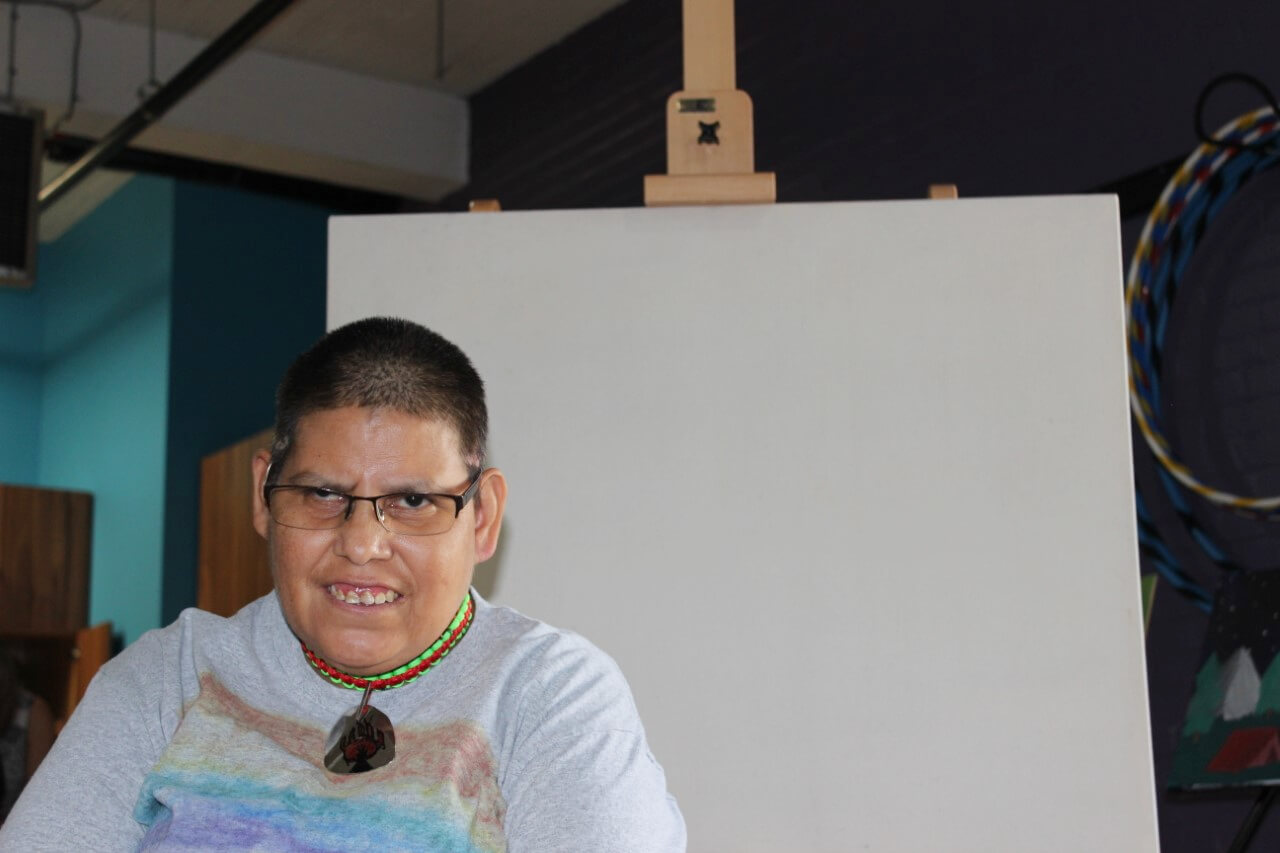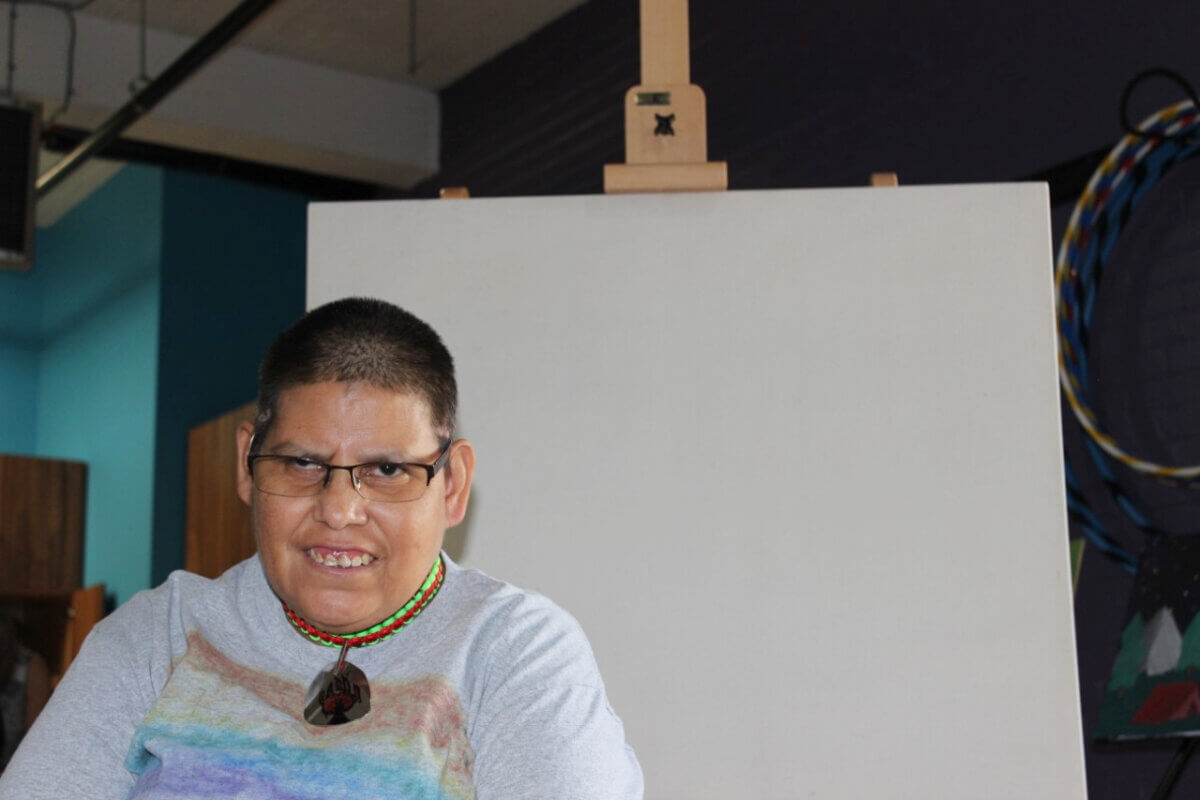 Meaningful Work Placements Available Through Creative Options
They also offer work placements in partnership with the University of Regina through the 4to40 program, which was established in 2014 to connect people experiencing disability with employers who embrace a flexible work week from four to 40 hours.  
Donna Flaman-Johnson, inclusive employment broker for 4to40, says their goal is to provide meaningful, engaging and fulfilling work to individuals, "the type of work where the individual would want to get up every morning and go to work."
"Research consistently indicates that people with intellectual disabilities are less likely to be educated or as gainfully employed as someone without a disability," she says. "And that has an impact on their independence and limits their social relationships and that leads to exclusion. There are programs like COR and 4to40 that are trying to change that."
Hiring People With Disabilities Changes Lives
Dylan Morin got a job working on the University of Regina campus as part of custodial services through the 4to40 program.  
"For someone with an intellectual disability I think it's fantastic," Morin says. "It's one of the few services that gives people with intellectual disabilities a chance to make real money and have real work."  
Morin encourages all businesses to hire people with intellectual disabilities: "It'll change the lives of those with a disability and the lives of those in the workplace."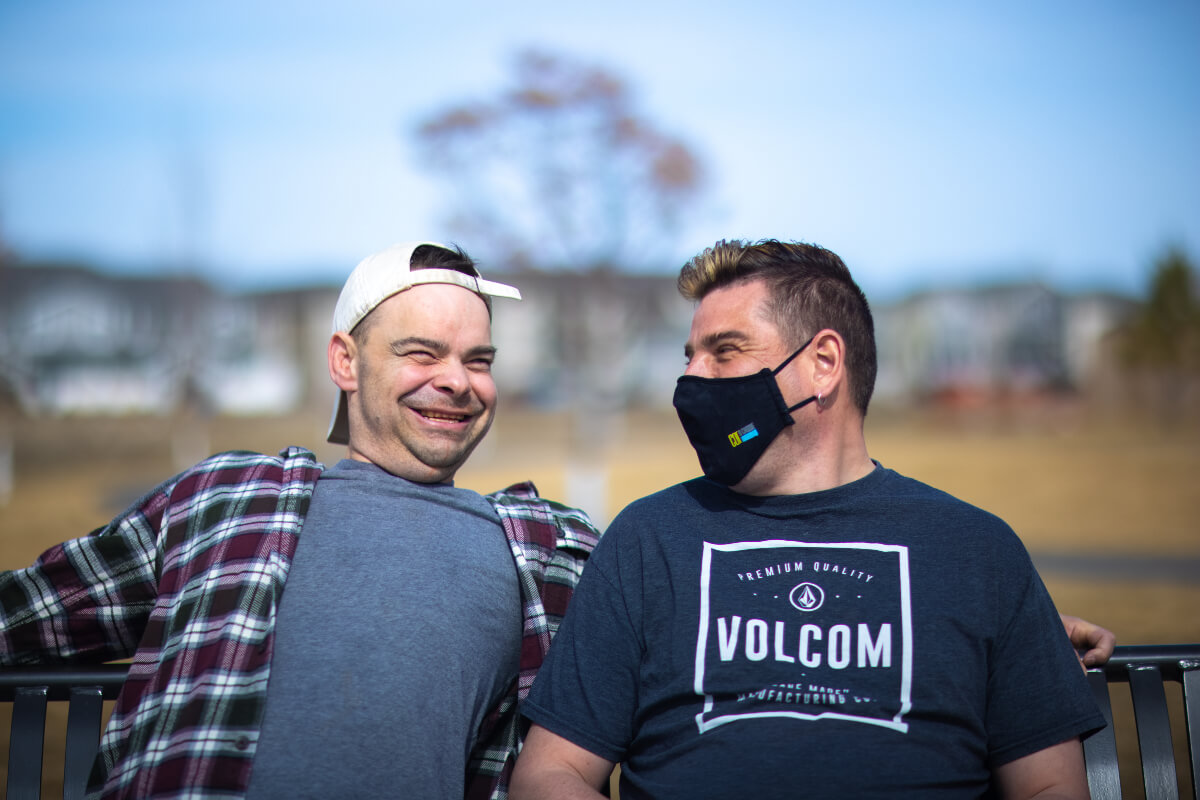 More Organizations Doing Good In Regina  
COR is one of many non-profits and initiatives doing good work in Regina. Guru Nanak Free Kitchen provides hundreds of free meals every Sunday at the corner of Dewdney Avenue and Angus Street.
The Lady Viak and Afro Mentorship programs support local women and children. The newly formed Habitat for Humanity Saskatchewan hopes to help 21 families in 2021. And one local woman is protecting the bird population in Regina's Cathedral community.