With a total of 20 Grand Slam titles, and 103 tournament wins worldwide, Roger Federer is undoubtedly one of the greatest men's tennis players in history.  
The Swiss tennis player was ranked #1 by the Association of Tennis Professionals for 310 weeks over the course of his career. In short, he dominated the world of men's tennis. At 41 years old, Federer is retiring after two decades in the sport. Let's take a look at his incredible accomplishments.  
Roger Federer's Last Match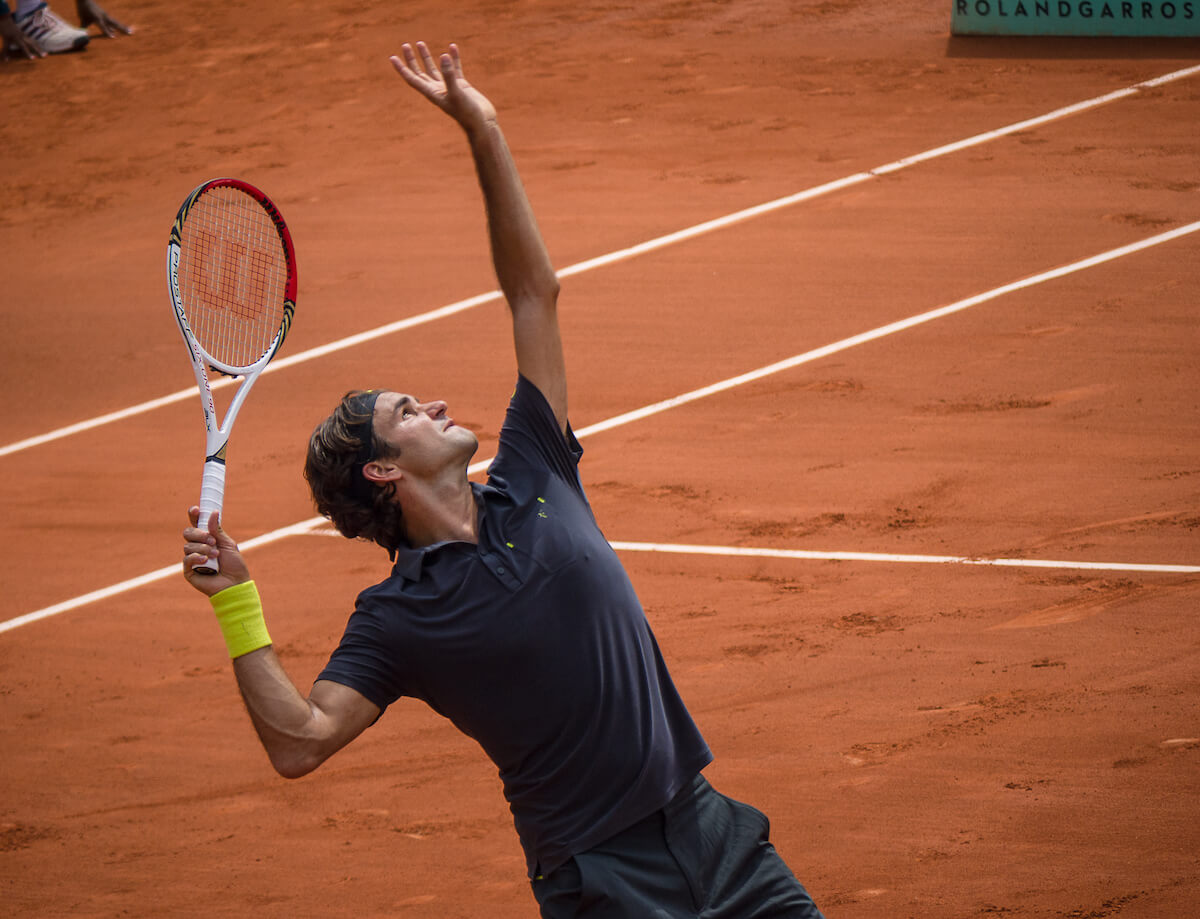 Federer played his final match on Sept. 23rd, 2022, at the Laver Cup in London. The day of the match, he tweeted out: "I've done this thousands of times, but this one feels different. Thank you to everybody who's coming tonight." 
Much like Serena Williams' final match before retirement, Federer's last game was also a remarkable moment in history. It was watched with plenty of emotion, admiration and respect for the tennis legend.  
The Associated Press reported that "cascades of clapping and yells of affection came from the stands" along with chants of, "Let's go, Roger! Let's go!" during the concluding moments of Federer's loss in doubles alongside his long-time rival Rafael Nadal for Team Europe against Frances Tiafoe and Jack Sock of Team World. 
Where It All Began  
Born on August 8th, 1981 in Basel, Switzerland, Federer credits the range of sports he played as a child for his hand-eye coordination, particularly badminton and basketball: "I was always very much more interested if a ball was involved," he told the Financial Times in 2006.  
Federer won his first junior championship at the age of 14 and his first sponsorship at age 16. Over the years, he developed a reputation as a "supreme ambassador for the sport" according to CBS Sports.  
"Federer was a wizard who preferred racket over wand," Matt Norlander wrote for CBS Sports. "He could do almost anything on a tennis court and was chameleon-like in his ability to shift in how he beat his opponents. For as maddening as he must have been to play against, he was just as bewitching to watch. Federer possessed a signature one-handed backhand that sliced with devastating precision and redefined the geometry of the game. He had every trick in the bag and could go entire tournaments without taking a few of them out for show."   
Roger Federer's Tennis Milestones 
At only 21 years old, he won his first major singles Grand Slam at Wimbledon in 2003. He went on to win that tournament seven more times, including capturing it five times in a row from 2003-2007.  
Some of his notable milestones and records include: winning 1,251 singles matches in his career; winning the most Wimbledon titles for a men's singles player (eight); and being the only player to win two Grand Slams five consecutive times – Wimbledon from 2003-07 and the U.S. Open from 2004-08. 
He's Also a Notable Philanthropist 
Federer is admired for more than his athletic accomplishments – he's also a renowned philanthropist. Ranked the highest-paid athlete on the Forbes 2020 list, Federer earned $106.3 million from tournament wins and sponsorship deals from June 2019 through May 2020.  
While he's inching close to billionaire status, he's focused on using his financial success to help others and give back in a major way. Here are just a few examples of his philanthropy:  
1. He Created The Roger Federer Foundation  
In 2003, he created the Roger Federer Foundation, committed to providing early childhood education to six low-income countries in Africa as well as Switzerland. Over the last two decades, the foundation has helped almost 2 million children by spending more than $70 million on education initiatives in more than 9,300 early childhood schools.  
2. He Donated Millions to Feed Vulnerable Families  
In early 2020, Federer stepped up and joined other athletes who gave back during the COVID-19 pandemic. Federer donated $1 million through his foundation to ensure vulnerable families in Africa were being fed. The donation helped 64,000 people.  
Federer and his wife, Mirka, also personally donated more than $1 million to vulnerable families in Switzerland. "Our contribution is just the start," Federer said in a statement he posted on Twitter. "We hope that others might join in supporting more families in need. Together we can overcome this crisis!" 
3. He Fundraises for Multiple Causes   
Federer frequently hits the court to raise money for charity. In 2010, he organized the fundraiser "Hit for Haiti" in response to the earthquake in Haiti that year, and was part of the Rally for Relief at the 2020 Australian Open following the devastating bushfires in the nation. 
He also recently teamed up with the Duchess of Cambridge to host a day of tennis in East London in October 2022 in support of two charities: Action for Children, which supports children facing poverty, and the LTA Foundation, which takes tennis into communities where "children may have never picked up a racket or thought tennis was for them" according to their website.  
Closing A Historic Chapter 
September 15, 2022
The tennis legend tweeted on September 15th, 2022 that he was retiring from tennis. "Of all the gifts tennis has given me over the years, the greatest, without a doubt, has been the people I've met along the way: my friends, my competitors, and most of all the fans who give the sport its life," he wrote in a statement posted on Twitter.  
"As many of you know, the past three years have presented me with challenges in the form of injuries and surgeries," he continued. "I've worked hard to return to full competitive form. But I also know my body's capacities and limits, and its message to me lately has been clear… Tennis has treated me more generously than I ever would have dreamt, and now I must recognize when it is time to end my competitive career." 
While he may no longer be competing in Grand Slams and going on tour, Federer will continue to play the sport that has shaped who he is. 
'Pushing Tennis in the Right Direction' 
Federer told TODAY's Savannah Guthrie on Sept. 16 that his generation of tennis pros "pushed tennis into the right direction." 
"And I think I did it my way," he told TODAY. "I always stayed true to myself and people always, it seemed like, loved watching me play, which is I guess the ultimate compliment." 
Lead image credit: Image of Roger Federer by xeno_sapien is licensed under CC BY-NC 2.0.