A new company based in Toronto is creating an eco-friendly alternative to mainstream food delivery apps. Suppli is a service that partners with local restaurants to provide customers with reusable takeout containers. This way people in the community can support independent businesses without having a negative impact on the environment.
Co-founder Julianna Greco says she and her business partner Megan Takeda-Tully first got the idea for the business once they started learning more about the waste crisis and how many disposable containers were ending up in landfills each day. They combined their past startup and corporate experience with their passion for the environment to launch Suppli almost one year ago in October 2020.
"I was exposed to the waste crisis and once that set in, I couldn't turn back. Once you realize how many single-use coffee cups are sitting in landfills, you're disgusted and just want to do something about it," she says. "We saw reusable takeout containers as a very new space to play in at least for Toronto and most of Canada, with a lot of opportunity for growth and challenges to solve."
Reusable Takeout Containers Offered on Food Delivery Apps
Today, Suppli has about 2,000 account holders and a growing network of 25 restaurants they partner with including two locations of Thai restaurant Sukhothai. Currently, Suppli's model is to offer the reusable takeout containers as a menu item on food delivery apps like UberEats for an extra cost of 99 cents per order. Once customers finish with the containers, they simply rinse the containers and drop them off at one of 25 locations in the area within the next week. The drop-off points include mission-aligned cafes and shops. 
"The funny thing people may not understand is we're bringing these restaurants a significant amount of business. Some have seen increases in monthly revenue of 5-10% just from Suppli customers alone," Greco says. "It's incredible because a lot of people during the pandemic wanted to support local restaurants but you're conflicted because you have all this waste. It was hard to kind of do both."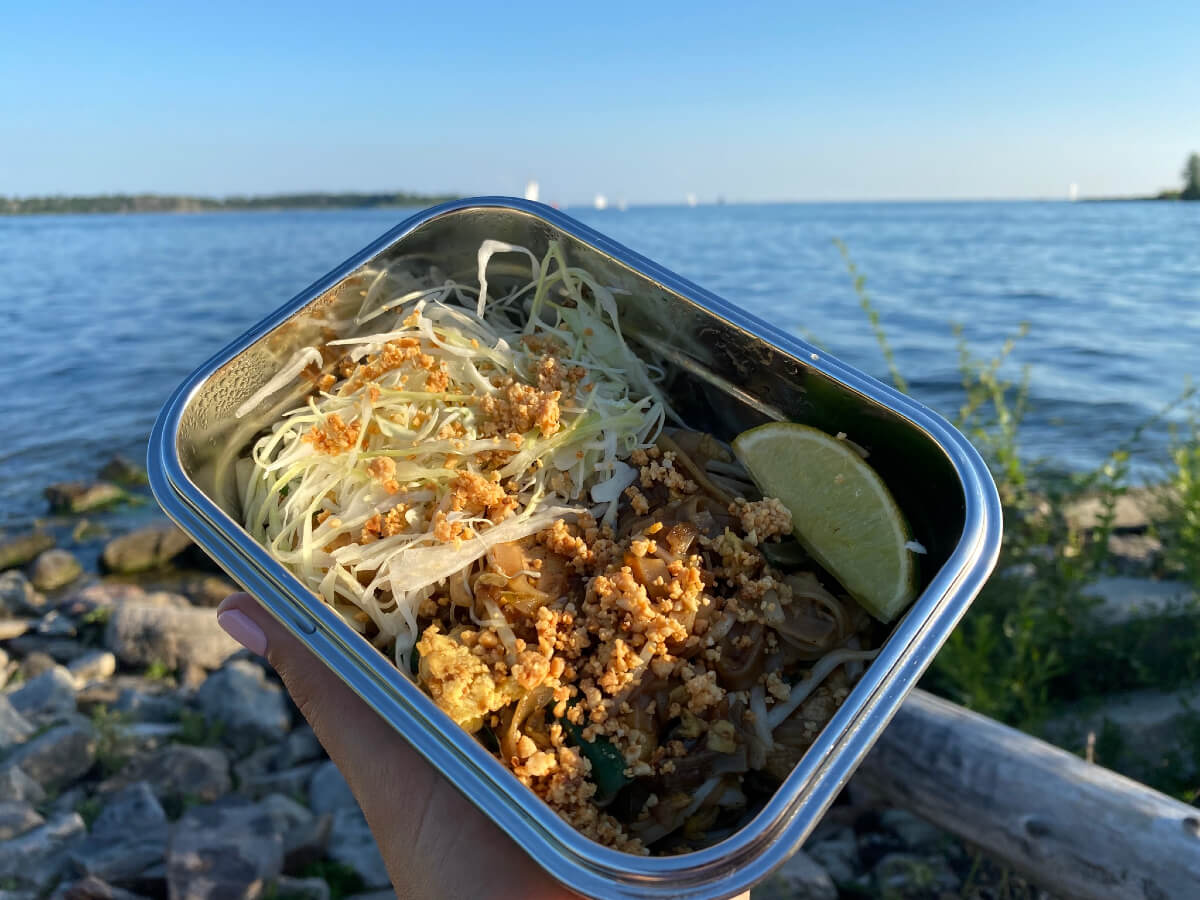 Suppli's Takeout Containers Made Without Plastic
The containers themselves are made of stainless steel and food-grade silicone tops with no plastic involved. Suppli is currently undertaking a lifecycle analysis of the containers, and Greco says they estimate each one lasts for about 1,000 uses.
Recently, Suppli partnered with Red Thread Innovations to design and develop their online marketplace. This fall, the company will be beta testing the marketplace with select customers, planning on a mass-market launch in early November.
"I think the biggest thing we're very excited about is the launch of our app, which will be coming at the beginning of November when we'll be able to launch it to the east end of Toronto," Greco says. "It just solves a lot of problems so I would say we're building the future of sustainable takeout. It will enable us to scale across Toronto, across Canada and worldwide, so that's the most exciting thing."
Suppli Hopes To Expand Across Canada
In the near future, Greco says they plan on expanding to the rest of Toronto before tackling Canada and eventually, the globe.
"Creating our own marketplace app is a very important piece of the puzzle in order to scale," Greco says. "And then we'll have created a mobile blueprint of what we can take and put into cities across Canada."
More Great toast Stories
Read more stories about sustainable companies helping the planet: