As the pressure mounts for companies and individuals to take action against the climate crisis, it's becoming more important than ever to find creative solutions to help the environment. The old ways of doing things simply won't cut it anymore — and it's on all of us to take steps towards living a more sustainable lifestyle.
But have no fear — making lifestyle tweaks to help reduce your environmental impact doesn't mean you have to reinvent the wheel. In fact, companies like eco + amour, a Toronto-based sustainable living boutique that offers refillable bath, body, home and personal care products, are taking it upon themselves to make the transition as smooth as possible.
Eco + Amour Wants to Create a More Sustainable Market
Sarah Marcus first launched eco + amour when she noticed a gap in the world of refillable beauty and home products in the Toronto area, and recognized an incredible opportunity to create a more sustainable market.
"I researched the refillable market, and I couldn't find anyone else doing it," Marcus says. "I thought it would be a great way to build a network, connect with other indie beauty brands, and help them offer a more sustainable shopping experience."
Connecting People to Eco-Friendly Alternatives
Eco + amour partners with local and independent beauty brands like Abundant Releaf, Active Humans, BeKind, drizzle and many more to connect people with natural, eco-friendly alternatives to your average drug store or big-name brands. The boutique offers everything from shampoo and conditioner to home cleaning products, taking a clean-ingredient approach to beauty and personal care.
"We steer clear of plastics and things like palm oil, sulphates and synthetic fragrance, but we're ever-evolving as we learn and grow," Marcus says. "We're consistently discovering new materials."
Eco + Amour Refills Beauty and Home Products
One of the key components of eco + amour's business model that sets it apart from other personal care and beauty brands is that they provide refills so that customers don't need to keep buying new containers every time they run out of their favorite products.
This makes for a much more sustainable alternative to the average person's routine, especially given that many recyclable items never end up getting recycled.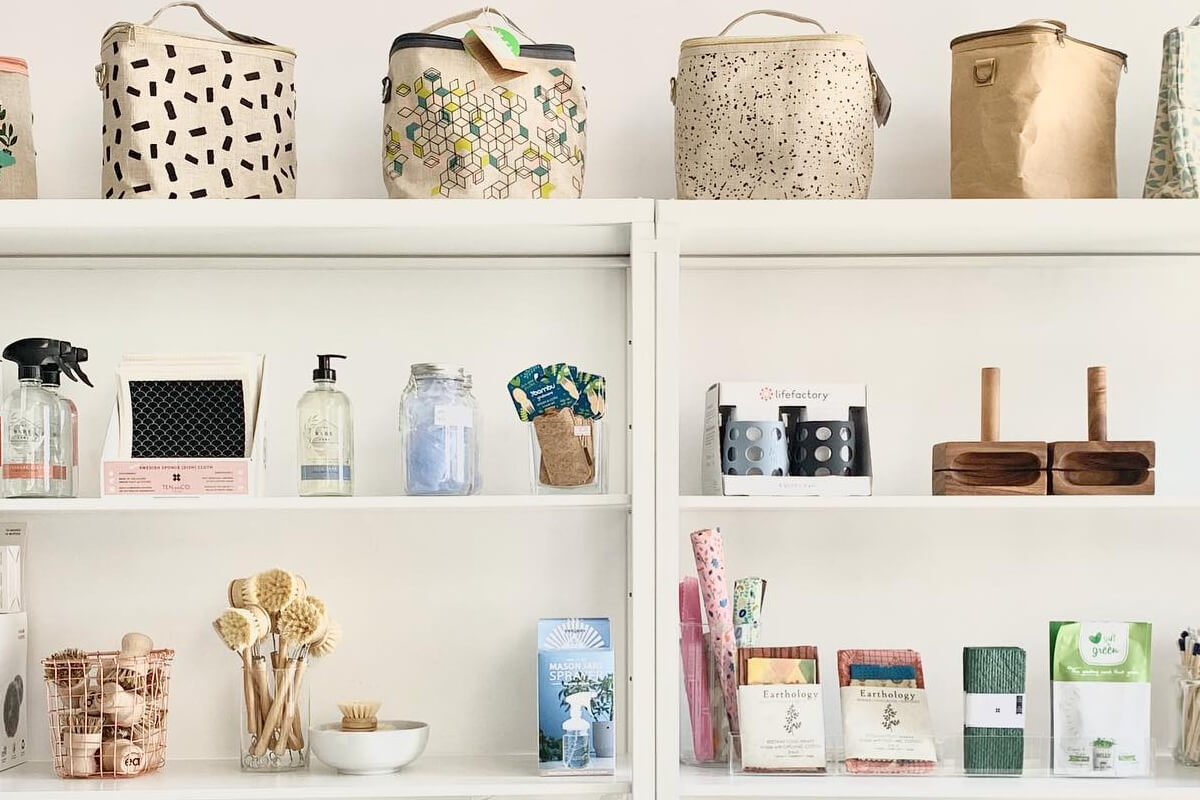 Living a More Eco-Friendly Lifestyle
According to Marcus, living a more sustainable life doesn't have to be scary, stressful or overwhelming. When trying to implement a more eco-friendly lifestyle, she recommends avoiding all-or-nothing thinking and instead focusing on the small, easy changes you can make each day to reduce plastic waste – like starting a plastic-free morning routine.
"I wish people knew that it's a lot easier than they may think," Marcus says. "You don't have to do everything to do something. You might keep the same Tide bottle for two years, but still buy bounce sheets. You don't have to revamp your entire life and clear out every piece of plastic."
Green Beauty Brands Are Advocating for Change
Marcus also notes that although many people may feel like budget constraints are stopping them from living more sustainably, many brands offer multiple options to fit a variety of price points.
Eco + amour is currently working on expanding the brand across Canada and looking for more mission-aligned retail partners to collaborate with. The company is part of a growing number of Canadian green beauty brands leading the charge in sustainability. Recently, green beauty and wellness brands have stepped up to advocate for climate change policy.
eco + amour sells refillable beauty and home products to reduce waste. Lead photo courtesy eco + amour.